'Bolder steps' urged by unions to protect Qatar workers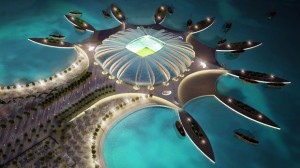 International trade unionists inspecting the plight of migrant workers in Qatar on Thursday urged immediate "bolder" steps by the 2022 football World Cup host country to protect workers.
Evidence has shown that "decent work deficit remains widespread and a climate of fear persists," said a statement by the Building and Wood Worker's International (BWI) federation, whose 18-member team Thursday concluded a four-day mission to the gas-rich state.
The situation, it said, is "not acceptable".
"Bolder steps are needed now, not in the future," the statement added.
Qatar has come under mounting pressure to end exploitation of migrant workers as it embarks on a multi-billion-dollar construction program to prepare to host the 2022 football World Cup.
"Plans and reforms presented by the authorities lack the urgency needed in this situation," the BWI statement said.
British daily, The Guardian, last month, said 44 Nepalese workers have died on construction sites in Qatar.
The International Trade Union Confederation (ITUC) had earlier slammed as "weak and disappointing" Qatar's response to media claims that Nepalese workers were treated as slaves.
The head of Qatar's National Human Rights Committee, Ali Al-Marri, last week admitted some problems but denied claims that Nepalese workers are treated like "slaves".
The labour minister's undersecretary, Hussein al-Mullah, told the delegation that companies in Qatar have met "99 percent of the (local) labour code," insisting that the government intervenes when it receives complaints by workers.
But BWI said that "while there are workplaces that are better off, it does not imply that the situation is the same in the whole country."
Principles of the "Workers' Charter" of the Qatar 2022 Supreme Committee, the body organising the World Cup which is chaired by the Amir Shaikh Tamim bin Hamad al-Thani himself, are "not well defined, do not refer to internationally recognised standards, and do not include workers' rights or trade union rights," BWI said.
The ITUC lodged a complaint in March with the labour ministry against six Qatari companies after being contacted by workers.
The union body says Qatar's labour ministry received 6,000 worker complaints in 2012 while the Indian embassy there received 1,500 complaints in the first five months of this year.
Among the complaints are that false promises are made to workers, that employer obligations on wages and working conditions are not met, that contracts are not respected, passports are withheld, workers are indebted to recruiters or moneylenders, and that workers are forced to live in crowded squalid camps.
Photo: High death rates and harsh conditions reportedly face foreign workers as Qatar embarks on a multi-billion-dollar construction program to prepare to host the 2022 football World Cup.
Khaleej Times