Article by hard-line critics makes Iran FM Zarif sick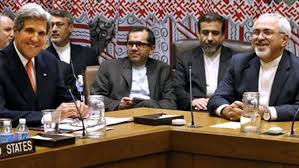 Iran's internal power plays have produced many moments of political theater, but never one like this: The foreign minister checks himself into a hospital because of stress, blaming it on hard-line critics of the recent thaw with Washington.
A cascade of events Wednesday suggested there was no end in sight to the ideological skirmishes following President Hassan Rouhani's outreach to the U.S.
Those overtures will be put to the test next week in Geneva when nuclear talks with world powers resume.
For Rouhani, the immediate prize would be winning pledges from the West to roll back painful sanctions in exchange for concessions on Tehran's nuclear program. But, on a deeper level, Rouhani's gambit also exposes sudden insecurities among the West-bashing factions that have shaped Iranian affairs for decades.
If Rouhani's brand of diplomacy pays off in the eyes of Iran's top policymaker, Supreme Leader Ayatollah Ali Khamenei, it could bring sharper limits on the reach of powerful factions led by the Revolutionary Guard — which has already been warned by Khamenei to stay out of politics and let Rouhani's overtures run their course.
The Guard will remain a pillar of Iran's establishment no matter what happens with Rouhani's efforts. But Khamenei's directive to give Rouhani political breathing room was a rare roadblock for a group whose power and influence has expanded steadily in the past decade. The Revolutionary Guard's network now extends beyond its fighting forces to cover sectors as diverse as the nuclear program and airport security.
Possible attempts by Khamenei to separate the Guard from the worlds of politics and foreign affairs would mark a profound change on how Iran interacts with the West, and offer more of flexibility in diplomacy.
"Opposition or frustration by hard-liners is a natural reaction," said Tehran-based political analyst Saeed Leilaz. "But nothing can derail Rouhani's policy of outreach to the U.S." as long as Khamenei remains nominally in his corner.
Khamenei has previously said he's not opposed to direct talks with the U.S. to resolve Iran's nuclear standoff with the West but is not optimistic. Last week, he called the U.S. "untrustworthy."
"There is a political will to reduce tensions with the U.S.," said a Tehran political commentator, Hamid Reza Shokouhi. "This strategy is supported by the supreme leader."
But that has not stopped critics of Rouhani's government from making their complaints heard.
The nationally broadcast Friday prayers last week included the familiar chants of "Death to America." A week earlier, protesters hurled eggs and insults at Rouhani's entourage after he returned from the groundbreaking exchanges in New York.
It was capped by President Barrack Obama's phone conversation with Rouhani in the highest-level dialogue between the countries since Iran's 1979 Islamic Revolution.
The latest counterpunch followed a drama that began with a report in the hard-line newspaper Kayhan that contained alleged misquotations of Foreign Minister Mohammad Javad Zarif that criticized the overtures with Washington. This was followed by Zarif seeking medical help because of what he called muscle spasms "due to being nervous."
"A bitter day," the U.S.-educated foreign minister posted on his Twitter account.
Zarif claimed the newspaper Kayhan misquoted him as saying Rouhani's 15-minute telephone conversation with Obama was "inappropriate." It also quoted Zarif as saying he believed it was wrong to hold a lengthy face-to-face meeting in New York with Secretary of State John Kerry.
Mohammad Hossein Naqvi, spokesman of the parliament's National Security and Foreign Policy Committee, rejected the Kayhan report.
The editors and management at the paper were not immediately available for comment. But in a front-page story Wednesday, Kayhan defended its account and said Zarif's acknowledgment "brought down the line of compromise" with the U.S.
To further complicate matters, Kayhan's director is appointed by Khamenei. This suggests fissures within one of the main outlets for hard-line commentary.
A major moment for Rouhani's agenda will come next week in Geneva when Iranian envoys — led by Zarif — meet with delegations from the five permanent U.N. Security Council members plus Germany in a follow-up to discussions in New York last month.
Rouhani has made it clear he wants the U.S. and allies to pull back on sanctions, which have cut Iran's vital oil exports in half and blackballed the country from international banking networks. But Iran has not announced what it will offer in return.
In Geneva, Iran's parliament speaker, Ali Larijani, told The Associated Press that Iran has more enriched uranium than it needs for its research and would be willing to discuss the "surplus" with Western powers next week.
He said Iran is open to discussions about what to do with the 20 percent enriched uranium that it doesn't need. Iran has reported to the U.N.'s International Atomic Energy Agency that it has turned half of its 20 percent enriched uranium into a powder form that cannot easily be used to make weapons-grade fuel.
The 20 percent enriched uranium has been a centerpiece of the showdown with the West. It is closer to warhead-grade material than the level needed for energy-producing nuclear reactors. Iran, however, says it needs the higher level enrichment for its medical research reactor and repeatedly denies claims it seeks an atomic weapon.
"We have some surplus, you know, the amount that we don't need," Larijani said. "But over that we can have some discussions."
Last week, parliament overwhelmingly backed Rouhani's initiatives. In an attempt to further push back against hard-liners, Rouhani has asked the government to conduct a poll on views of his U.N. visit and outreach to the U.S., spokesman Mohammad Bagher Nobakht was quoted as saying by the state-run IRNA news agency.
Meanwhile, other battle lines could be emerging.
The semiofficial Fars news agency, which is close to the Revolutionary Guard, reported that authorities are studying a proposal to free Iran's two most prominent opposition figures, Mir Hossein Mousavi and Mahdi Karroubi, who have been under house arrest since early 2011.
In recent weeks, officials have freed more than 90 people jailed in crackdowns since huge unrest after the disputed re-election of Rouhani's predecessor, Mahmoud Ahmadinejad, in 2009. Mousavi and Karroubi led those protests.
In a separate statement, Rouhani urged police to be less aggressive in enforcing Iran's Islamic dress codes for women, who often push limits with body-hugging coverings and head scarves barely hanging on.
"One of the main reasons behind Ayatollah Khamenei's recent decision to support (Rouhani's) efforts is sanctions," said Meir Javedanfar, an Iranian-born political analyst based in Israel. "Such support will not be open-ended or unconditional, as (Khamenei) has his own hard-line audience to play to. So Rouhani better deliver, and deliver fast."
Washington Post
Photo: U.S. Secretary of State John Kerry, left, and Iranian Foreign Minister Mohammad Javad Zarif attend a meeting of the five permanent members of the Security Council plus Germany during the 68th session of the United Nations General Assembly at U.N. headquarters. Sept. 26, 2013: AP