Mursi faces trial as U.S. reviews aid to Egypt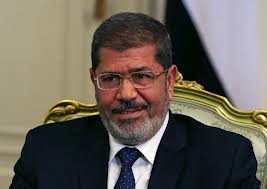 Egypt's ousted President Mohamed Mursi will face trial on November 4 on charges of inciting killings at protests, a prospect sure to raise concern in Washington, already considering cutting aid to Cairo to press for democracy.
Mursi has been held in a secret location since his overthrow on July 3. If he is brought before the court, it will be the Islamist leader's first public appearance since then.
The trial could further inflame tensions between the Muslim Brotherhood and the army-backed government and deepen the political instability that has decimated tourism and investment in the most populous Arab state.
The upheaval worries Cairo's Western allies, who were hoping the uprising that ended Hosni Mubarak's 30-year rule would turn the region's biggest country into a democratic success story.
The United States and European Union had wanted an inclusive political process in Egypt, which has a peace treaty with Israel and controls the Suez Canal waterway between Europe and Asia.
Mursi, Egypt's first freely elected president, and other Brotherhood leaders accuse the army of staging a coup that reversed the gains of the 2011 revolt against Mubarak.
The army, which says it was carrying out the people's will, presented a roadmap it said would bring free and fair elections.
Judge Nabil Saleeb said Mursi and other Brotherhood members had been charged with "inciting the killing and torture of protesters in front of the Etihadeya (presidential) palace".
U.S. REVIEWS AID
The charges relate to the deaths of about a dozen people in clashes outside the presidential palace in December after Mursi enraged protesters with a decree expanding his powers.
Egypt has been in turmoil since the army removed Mursi following mass protests against his rule and then launched a tough crackdown against his Brotherhood, killing hundreds at protest camps and marches and arresting about 2,000.
Mursi supporters and security forces clashed again on Sunday, one of the bloodiest days since the military took power, with state media reporting 57 people dead and 391 wounded.
The United States is leaning toward withholding most military aid to Egypt except to promote counter-terrorism, security in the Sinai Peninsula that borders Israel, and other such priorities, a U.S. official said on Tuesday.
The official said President Barack Obama had not made a final decision on the issue, which has vexed U.S. officials as they balance a desire to be seen promoting democracy and rights with a need to keep up some cooperation with Egypt's military.
After Mursi's ouster, the Obama administration said it would suspend about $585 million in military assistance to Egypt pending a wider policy review.
The U.S. official, who spoke on condition of anonymity, said the Obama administration was now inclined to continue withholding most of that, with the exceptions described above.
The official said the United States was also considering continuing some economic aid to Egypt, but chiefly funds that go to non-governmental groups rather than to the government itself.
In Cairo, the Foreign Ministry said on Wednesday it had not received any official word from Washington on the issue.
"The relationship between Egypt and the United States is one of partnership, and not one of donor and recipient," said Foreign Ministry spokesman Badr Abdelatty.
Egypt for decades has been among the largest recipients of U.S. military and economic aid because of its 1979 peace treaty with U.S. ally Israel, which agreed to withdraw from the Sinai Peninsula it seized from Egypt in 1967 as a result of the pact.
Washington has long provided Egypt with about $1.55 billion in annual aid, including $1.3 billion in military assistance.
Aside from the political crisis, Egypt's interim government faces an Islamist insurgency in the Sinai, near Israel and the Gaza Strip, which is run by the Palestinian militant group Hamas, an offshoot of the Muslim Brotherhood.
Al Qaeda-linked Islamist militants in the Sinai have stepped up attacks on soldiers and police since the army toppled Mursi and have on occasion extended their campaign into major cities. A Sinai-based group claimed responsibility for a failed suicide bombing targeting the interior minister in Cairo in September.
Security sources said Mursi was expected to be tried at a Cairo police institute near Tora, Egypt's most notorious prison, which held Mubarak until he was moved to house arrest in August.
The sources said authorities want to keep Mursi in a secluded area for security reasons and to avoid protests.
Reuters