Gemayel: Hezbollah using Syria's intimidations methods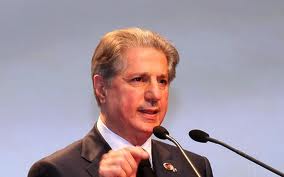 Former Lebanese president and Phalange Party leader Amine Gemayel accused the Shiite militant group Hezbollah of using the same methods of intimidation as those used by the Syrian regime during Lebanon's civil war .
"The pressures imposed on me during my mandate ( as president of the republic), with the same tools used by Syria, are now being practiced by Hezbollah who has imposed its own logic with all possible means and always illegitimate ones," Gemayel said in remarks published by Al-Akhbar newspaper on Saturday.
He added that the pressure imposed by Hezbollah aimed to "serve external goals that have nothing to do with Lebanon."
Gemayel served as Lebanon's president from 1982 to 1988 as the country's 1975-1990 civil war was raging.
Syria exerted heavy-handed influence over Lebanese politics, that was deeply resented by many from the early days of the civil war. Syrian troops withdrew from Lebanon in April 2005 following the popular Cedar Revolution demonstrations that were prompted by the assassination of former Prime Minister Rafik Hariri for which Syria was blamed .
The former presiddent also said that despite "all the effort exerted by President Michel Suleiman," it would not be "easy to break through the wall that has been put in his face."
He also turned to the issue of the upcoming presidential elections in 2014, saying that the pro-Western March 14 alliance was preparing for these elections and was seeking "the widest coalition beyond March 14 itself."
NOW