Lebanon's ISF arrests 3 for making fake Captagon pills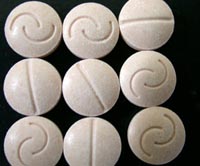 The Lebanese Internal Security Forces ISF announced on Friday that three people were arrested in Majdal Anjar for manufacturing Captagon tablets .
Captagon (Fenethylline) is most common in the Arab countries. Many of the counterfeit "Captagon" tablets actually contain other amphetaminederivatives that are easier to produce, but are pressed and stamped to look like Captagon tablets.
The side-effects of this drug according to experts are: Damages brain cells, disrupts the normal heart rhythm, enlarges the veins in the body and could ultimately become fatal.
Reports circulated in Lebanon last November pointing to Hezbollah MP Hussein Mousawi 's brother Jihad as being behind the manufacturing and exporting of the Captagon pills.