Saudi Sheikh: driving affects women's ovaries and pelvises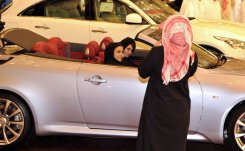 As women in Saudi Arabia prepare to challenge the kingdom's ban on female driving next month, a leading Saudi cleric is warning women that driving could damage their ovaries and pelvises and could result in babies born with medical problems.
Sheikh Saleh bin Saad al-Luhaydan, decribed by Reuters as "one of Saudi Arabia's top conservative clerics" warns that driving "rolls up the pelvis."
A consultant to the Gulf Psychological Association, al-Luhaydan issued this warning about female driving in an interview published on the website sabq.org on Friday: "Physiological science and functional medicine studied this side [and found] that it automatically affects ovaries and rolls up the pelvis. This is why we find for women who continuously drive cars their children are born with clinical disorders of varying degrees."
Women who want to be permitted to drive should place "reason ahead of their hearts, emotions and passions," he said.
The sheikh's comments have drawn ridicule on Twitter, including jeers at his "great scientific discoveries."
One Arabic poster highlighted by Al Arabiya asked whether the sheikh "studied Shariah, medicine or foolishness," while the hashtag #Women_driving_affects_ovaries_and_pelvises has become a popular location for similar jokes including these:
@alkhalil72 I have a feeling someone's mother must have driven a lot before he was born! #Women_driving_affects_ovaries_and_pelvises

The blaze