Syria's FM says SNC not welcome at peace talks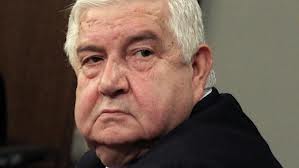 Syria's foreign minister says the main Western-backed opposition group should not take part in a future peace conference because it had overwhelmingly supported a U.S. strike against Damascus over an attack last month in which chemical weapons were used.
A Russian initiative eventually averted a U.S. strike and led to the adoption of a UN Security Council resolution to have Syria dismantle its chemical weapons program. The resolution, passed after two weeks of white-knuckle negotiations, marked a major breakthrough in diplomatic efforts since the Syrian uprising began in March 2011.
U.S. and Russian efforts are also focusing on holding a peace conference for Syria, perhaps as soon as November in Geneva.
But Syrian Foreign Minister Walid al-Moallem's comments put a damper on those efforts. He said senior Damascus government officials would not sit down to talk with the Syrian National Coalition, the main opposition group in exile that supported the possibility of a U.S. strike.
Al-Moallem told the Lebanon-based Al-Mayadeen TV late Sunday that the group "is not popular in Syria and lost a lot among Syrians when it called on the U.S. to attack Syria militarily, meaning that it called for attacking the Syrian people."
President Bashar Assad has previously said the government won't talk to the armed rebels and militants — but al-Moallem's remarks seem to have expanded the government's list of the undesirable talking partners.
On Monday, a UN team of inspectors concluded its almost week-long mission in Syria and headed to Lebanon. The UN said Friday the team would investigate a total of seven sites where chemical attacks allegedly took place in Syria.
The team initially visited Syria last month to investigate three alleged chemical attacks earlier this year. But just days into the visit, the rebel-held Damascus suburb of Ghouta was hit by a chemical weapons attack, and the inspectors turned their attention to that case. The inquiry determined that the nerve agent sarin was used in the Aug. 21 attack, but it did not assess who was behind it.
Meanwhile, another team of international inspectors who will oversee Syria's destruction of its chemical weapons is scheduled to arrive in Damascus on Tuesday. Their first priority is to help the country scrap its ability to manufacture such arms by a Nov. 1 deadline.
A UN resolution passed unanimously Friday aims to strip Assad's regime of its estimated 1,000-ton chemical arsenal by mid-2014. It also calls for consequences if Syria fails to comply, though the Security Council would have to pass another resolution to impose any penalties.
The UN resolution also endorsed the roadmap for a political transition in Syria adopted by key nations in June 2012, and called for an international conference to be convened "as soon as possible" to implement it.
UN chief Ban Ki-moon has set mid-November as a target date for the new peace conference in Geneva.
Al-Moallem, the foreign minister, said there are other opposition groups in Syria that should be represented in future peace talks, "but not the coalition."
The comments are certain to further complicate efforts to hold the talks.
The opposition coalition's head, Ahmad al-Jarba, expressed readiness last week to attend talks in Geneva aimed at establishing a transitional government with full executive powers.
But other coalition members said they will only participate if they have guarantees prior to the talks that Assad would step down.
In violence Monday, three mortar shells hit the capital, Damascus, one of them landing near the Chinese Embassy, Syria's state-run news agency SANA said.
An Associated Press reporter at the scene said the shell fell about 100 metres from the embassy, setting two cars on fire and damaging others. The location was also close to the American Cultural Center, which has been closed for two years.
The shelling came days after shells hit the Iraqi and Russian missions in central Damascus. The governments of China, Russia and Iraq are strong backers of Assad's government.
CTV News