Political turmoil hits euro, dollar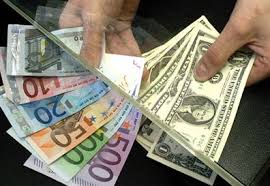 The euro fell broadly on Monday as political tensions in Italy escalated, while investors shunned the dollar as a deadline to avert a government shutdown in Washington approached.
The Swiss franc and the yen, which tend to benefit in times of financial uncertainty, rose.
The euro was down 0.7 percent at 131.82 yen having earlier fallen to a three-week low of 131.385 yen. The single currency fell 0.2 percent versus the franc at 1.2225, off a low of 1.2215 francs, its weakest since early May.
It was down 0.3 percent at $1.3488.
The euro was weighed down by an increasingly volatile Italian political crisis after Silvio Berlusconi pulled his ministers out of the government on Saturday and called for new elections, just seven months after the last vote.
Prime Minister Enrico Letta will seek support in a confidence vote, probably on Wednesday.
Strategists said the euro's fall versus the dollar could be limited by month-end and quarter-end euro buying by Asian accounts and due to dollar weakness as a deadline to break a political impasse over funding and avert a federal government shutdown approached.
"We are in for a risk-off day as we have a bit of a nasty combination of U.S. and Italian political problems," said Arne Lohmann Rasmussen, head of FX research at Danske Bank.
"This is positive for the yen, Swiss franc and sterling. We would not buy the dollar as a government shutdown would reduce the chances of the Federal Reserve 'tapering' its stimulus and that is dollar negative."
Some Republican legislators are trying to quash President Barack Obama's healthcare plan by withholding funds to the government.
The next battle will be over raising the federal government's borrowing authority and failure to do so by mid-October may result in a historic debt default.
"It's a scene we've seen before. What's different this time, though, is that Obama's leadership is in question after flops on the selection of the Fed's next chief and Syria," said Kyosuke Suzuki, director of forex at Societe Generale in Tokyo.
The dollar was flat against a basket of currencies .DXY at 80.336. Latest weekly Commodity Futures Trading Commission data showed currency speculators had cut their bets in favour of the dollar to the lowest net long in seven months.
The dollar was down 0.4 percent at 97.83 yen, having hit a one-month low of 97.53 yen earlier.
The British pound hit a 9-month high of $1.6183 and 8-1/2 month high of 83.38 pence per euro.
The Australian dollar was down 0.1 percent at $0.9300, having earlier dipped to a two-week trough of $0.9280 after data showed factory activity in its largest export market, China, grew only slightly.
Reuters