FSA rebels: Qaeda's ISIL doing the government job now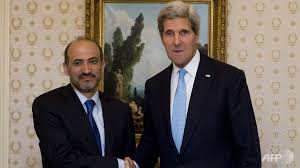 Moderate Syrian rebels are engaged in their fiercest fighting to date with al Qaeda-affiliated fighters on Syria's northern and eastern borders, a senior U.S. State Department official said on Tuesday.
"There is a real firefight," the official said of battles between al Qaeda's Islamic State of Iraq and the Levant (ISIL) and the Free Syrian Army ( FSA) led by Salim Idriss, a more moderate group of rebels trying to oust Syrian President Bashar al-Assad.
The official said the Free Syrian Army, which receives non-lethal U.S. support, was bringing in reinforcements and he said the State Department was looking at what more it might do to help the group, although he gave no details.
Clashes pitting the al Qaeda-linked ISIL and Nusra Front brigades against less effective but more moderate rebel forces have been intensifying recently, especially in opposition-held territory along Syria's northern and eastern borders.
The infighting has undermined the rebel military campaign against Assad. Their uprising began in 2011 as peaceful protests against four decades of Assad family rule but degenerated into a war that has killed more than 100,000 people.
"It's the hardest fighting we have ever seen between Salim Idriss's elements of the Free Syrian Army and the Islamic State of Iraq and the Levant," said the official, who spoke to reporters after U.S. Secretary of State John Kerry met Syrian National Coalition President Ahmad Jarba. "It's a slog."
"I would even go so far as to say that the extremists are actually doing the government's work now, which was a point that the opposition made in the meeting with the secretary," said the official, who spoke on condition of anonymity.
During their talks, Jarba voiced the Syrian opposition's disappointment at the U.S. decision not to bomb Syria for a chemical weapons attack on August 21 that the United States blames on the Assad government, the official said.
The growing influence of radical Islamist fighters and the disarray of rebel forces have also made Western powers wary of intervening directly in the civil war.
While some rebel tensions stem from contrasting ideological outlooks, most infighting centers around rival claims over the control of territory, smuggling and other spoils of war.
Reuters