Was Rouhani trying to avoid an Obama handshake?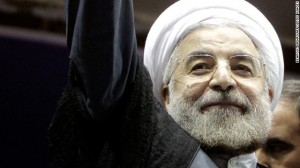 Iran's new President Hassan Rowhani did not attend a private lunch hosted Tuesday at the United Nations where he could have run into his US counterpart Barack Obama, an UN official said.
UN Secretary General Ban Ki-moon was hosting the lunch for the leaders of the UN member nations, but a UN official confirmed to AFP that Rowhani was not there.
It was not immediately clear why Rowhani skipped the lunch, which was open to all leaders at the assembly.
In another development a senior U.S. official said on Tuesday "There will be no meeting." He added "We indicated that the two leaders could have had a discussion on the margins if the opportunity presented itself. The Iranians got back to us. It was clear that it was too complicated for them to do that at this time given their own dynamic back home."
Earlier on Tuesday the Iranian foreign ministry said a meeting between Obama and Rowhani was "not on the agenda," and while the White House has not ruled anything out, it has also maintained there were no talks scheduled.
The United States and Iran have not had diplomatic ties since 1980.