Hezbollah slams Amnesty report accusing it of war crimes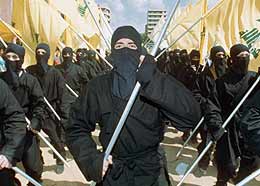 A Hezbollah member of parliament has criticised a report by Amnesty International that said the armed wing of the Lebanese political party committed a "serious violation of humanitarian law" in its recent conflict with Israel.
Hezbollah MP Hassan Fadlallah was quoted by the BBC as saying the London-based rights group should analyse the number of civilians killed on each side, before accusing Hezbollah of war crimes.
The Amnesty report concluded that Hezbollah had violated the 1949 Geneva Convention by deliberately targeting civilians when it fired thousands of Katyusha rockets loaded with ball bearings at urban areas in northern Israel.
"Hezbollah's rocket attacks on northern Israel amounted to deliberate attacks on civilians and civilian objects, as well as indiscriminate attacks – both war crimes under international law," the report said.
An earlier Amnesty report in August accused Israel of committing war crimes by deliberately targeting civilian infrastructure in Lebanon.
The August report detailed what it described as "massive destruction by Israeli forces of whole civilian neighbourhoods and villages", together with attacks on bridges "in areas of no apparent strategic importance", on its list of supporting evidence.
Israeli government spokesman Mark Regev responded to the Amnesty report at the time by saying that Israel's actions during the war were "in accordance with recognised norms of behaviour during conflicts and with relevant international law".
The latest Amnesty report is the first extensive criticism of Hezbollah by the rights organisation since the 34-day conflict began on 12 July. Amal Saad Ghorayeb, professor of political science at the Lebanese American University and a specialist on Hezbollah, said the report had been anticipated by Hezbollah.
"It will not have much impact on the party and will be sure to have more play in the West than in Lebanon," said Ghorayeb.
"Hezbollah will argue that every state in the world has a deterrence policy for when their civilians are targeted. Hezbollah's Katyusha deterrence – the ability to strike at civilian targets in Israel – dates back to the 1990s, and Hezbollah will no doubt argue that what state would not retaliate to being attacked in a similar manner?"
Ghorayeb pointed out that the Amnesty report quoted Israeli authorities as saying some 3,970 rockets fired by Hezbollah landed in Israel during the war, but that only 901 – less than a quarter – had landed in urban areas. In total, 43 civilians died as a result of Hezbollah rocket strikes, the report said.
Amnesty is preparing another report on whether Hezbollah contributed to civilian deaths in Lebanon by hiding among civilians, according to Nicole Choueiry, a spokesman for Amnesty in Britain.
The conflict between Hezbollah and Israel began on 12 July after Hezbollah militants captured two Israeli soldiers. A 34-day long Israeli assault on Lebanon followed, killing more than 1,000 Lebanese, almost all civilians, according to the Lebanese government.
During the same period, 161 Israelis, mainly soldiers, were killed by Hezbollah, according to the Israeli government.
Amnesty has asked the United Nations Secretary-General Kofi Annan to establish a panel of independent experts to conduct an inquiry into war crimes committed by both Israel and Hezbollah during the conflict.
IRIN
Photo: Hezbollah parade in black. The Shiite party that was hailed as heroes in 2000 following the withdrawal of Israel from south Lebanon , has reportedly been falling from grace loud and clear ever since the 2006 war with Israel and most recently since its involvement in the Syrian civil war which is of sectarian character, targeting Sunni Muslims, who constitute the majority of population in Syria.