Attacks in Iraq kill 33, wound 45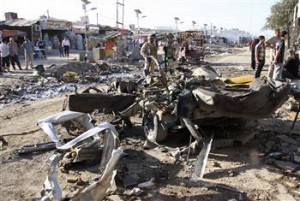 A total of 33 people were killed and 45 others wounded in attacks on Saturday in Iraq, the police said.
In the northern province of Nineveh, up to 27 people were killed and 36 wounded in a suicide bomb attack near Mosul, the capital of Nineveh, a provincial police source told Xinhua on condition of anonymity.
The attack occurred in the afternoon when a suicide bomber blew up his explosive vest at a funeral of the Iraqi minority of Shabak in the town of Baashiqa, some 10 km northeast of Mosul, which is about 400 km north of the Iraqi capital of Baghdad.
Earlier, the source put the toll at 22 killed and 41 wounded. The toll could still rise as many of the wounded are in critical conditions.
The Shabak people are a Shiite minority group living in Iraq's northern province of Nineveh, particularly around Mosul.
Elsewhere, six people were killed and nine others wounded in separate bombings and shootings in central Iraq.
A roadside bomb detonated at a village in Abu Ghraib area, some 25 km west of Baghdad, killing three people and wounding five others, a local police source told Xinhua on condition of anonymity.
Meanwhile, gunmen in a car killed a civilian and wounded another in a drive-by shooting in the city of Ramadi, some 100 km west of Baghdad, the source said.
In addition, a man and a woman were killed and three women wounded in a roadside bomb explosion on a main road at a village outside the city of Dujail, some 60 km north of Baghdad, a local police source anonymously told Xinhua.
Iraq is witnessing its worst eruption of violence in recent years, which raises fears that the country is sliding back to a full-blown civil conflict that peaked in 2006 and 2007 when monthly death toll sometimes exceeded 3,000.
Xinhua