Syria agreed to hand over chemical weapons control: FM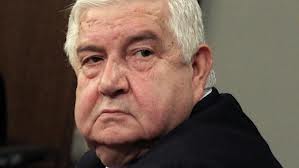 Syria says it has accepted Russia's proposal to place its chemical weapons under international control for subsequent dismantling.
Syrian Foreign Minister Walid al-Moallem said Tuesday after meeting with the Russian parliament's Speaker that his government quickly agreed to the Russian initiative to "derail the U.S. aggression."
Meanwhile, Russian Foreign Minister Sergey Lavrov said that Russia is now working with Syria to prepare a detailed plan of action, which will be presented shortly.
Lavrov said that Russia will then be ready to finalize the plan together with UN Secretary General Ban Ki-moon and the Organization for the Prohibition of Chemical Weapons.
U.S. President Barack Obama had said Monday the Russian proposal could be "potentially a significant breakthrough," but he remained skeptical that Syria would follow through. ahead of Congress debate later this week on whether the U.S. should launch military strikes on Syria in the wake of alleged chemical attacks in the Damascus area last month.
Earlier Monday, France said it would push for a UN resolution setting out terms for the destruction of its chemical weapons and warning of "serious consequences" if it resisted.
Western officials had expressed skepticism about the Russian proposal, fearing it could simply be a delaying tactic aimed at averting strikes but offering no real prospect of resolving a civil war that sprung from a March 2011 uprising.
The alleged Aug. 21 chemical weapons attacks on the outskirts of Damascus killed more than 1,400 people, according to the U.S., which has blamed the assaults on the regime of Syrian President Bashar al-Assad.
CBC