Lebanon condemns attack against Syrian Christian town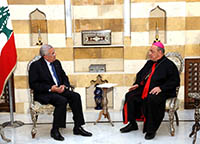 Lebanon President Michel Suleiman strongly condemned the attacks that targeted the Christian Syrian town of Maalula, describing the attacks as "heinous and shameful" acts, National News Agency reported on Monday.
"I am extremely outraged over the flagrant violation, vandalism and assaults on Christian places of worship and violence against safe citizens… [notably] in the prestigious and traditional town of Maalula," NNA quoted Suleiman as saying following his meeting with Head of the Chaldean community Bishop Michel Qassarji at the summer presidential palace in Beiteddine, shouf region of Mt Lebanon.
Suleiman stressed that he condemns "any violation of sacred sites in any part of the world."
Suleiman described these acts as "heinous and shameful" and said that they "tarnish the image of their perpetrators before the international public opinion and before God."
On Sunday jihadists linked to Al-Qaeda, took control of the historic Christian town of Maalula, north of Damascus.
The mainly Christian Maalula town is home to around 5,000 residents.
Photo: President Michel Suleiman pictured during a meeting with the Chaldean community Bishop Michel Qassarji at the summer presidential palace in Beiteddine, shouf region of Mt Lebanon, September 9, 2013