Lebanon FM calls on Arabs to reject Syria strike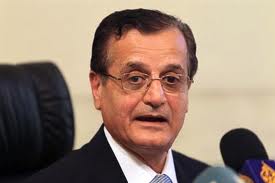 Lebanon Caretaker Foreign Minister Adnan Mansour defended the Syrian regime on Monday and called on all Arab states to unite in rejecting a U.S.-led military strike against Syria, National News Agency reported o Monday.
"All Arab countries must take a unified stance in rejecting an aggression against Syria because the repercussions will reflect on the entire region," NNA quoted Mansour as saying.
Mansour stressed that Syria does not stand alone and has friends all over the world and added: "We cannot imagine how an Arab country could possibly support an aggression against another," stressing that a "military strike against an Arab state cannot be overlooked whatever the latter's regime and policy are."
He cautioned : "We should wait for the results of the investigation on the use of chemical weapons and not make wild accusations."
U.N. experts left Syria Saturday August 31 after investigating an alleged chemical weapons attack, which killed over 1400 civilians according to the US. President Obama has asked the US congress to approve a limited response to punish Syria's President Bashar Assad for the "brutal and flagrant assault against his own people".
Mansour represents Amal Movement leader Nabih Berri in the outgoing cabinet, a close ally of Hezbollah .
Thousands of Hezbollah fighters joined the forces loyal to president Bashar al Assad against the mostly Sunni Syrian rebels who are trying to end the 40 year old dictatorship of the Assad dynasty, despite the fact that Lebanon officially declared its neutrality ( in the Baabda Declaration) with regards to the events in Syria.
Ali Hussein a Lebanese political observer told Ya Libnan: "It seems that Mansour forgot that Assad's father Hafez sided in 1991 against Iraq in support of a US led multinational effort to get Saddam Hussein out of Kuwait . He also seems to have forgotten that Hafez also sided with Iran in its war against Iraq in the eighties ."
Many Anti Syrian Lebanese politicians refer to Mansour as Syrian Foreign minister.
US Secretary of State John Kerry said Monday that Assad could resolve the crisis surrounding his purported use of chemical weapons by turning "every single bit" of his arsenal over to the international community by the end of the week. But Kerry who challenged Assad during a press conference in London said he didn't expect Assad to do that.
In a strong rebuttal to remarks by Assad (during an interview with CBS) , Kerry said there is very compelling evidence that the Syrian regime used chemical weapons against his own people.
Over 110, 000 have been killed in in the 30 month old Syrian uprising according to UN estimates