Obama decries UN 'paralysis' over Syria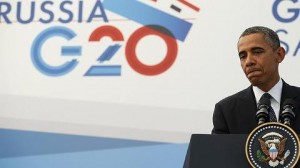 US President Barack Obama has reiterated his case for "limited" military strikes to be launched against the Syrian regime after its alleged use of chemical weapons against civilians, even as Russian President Vladimir Putin has said his country "will help" Syria in the event of an attack.
The two leaders spoke on the sidelines of the G20 summit in St Petersburg, where the issue of whether or not to launch military strikes against President Bashar al-Assad's regime has overshadowed the meeting's primarily economic agenda.
Addressing reporters in St Petersburg on Friday, Obama said he was "encouraged" by his conversations with other world leaders on the subject, but cited "paralysis" at the UN Security Council as the reason he sought to act outside that organisation's ambit.
"Failing to respond to this breach of [the] international norm [on chemical weapon use] will send a signal to rogue nations, authoritarian regimes and terrorist groups that they can use [such weapons] and not face consequences," Obama said.
He said there was "growing recognition" that the international community "cannot stand idly by" as chemical weapons are used.
He said that while there was a "unanimous" view among G20 leaders that chemical weapons had been used in the Syrian conflict, there were divisions on how to respond to their use, with several countries voicing their support for any action as long as it was mandated by the UN Security Council.
The US president conceded that a military strike in response would be "unpopular", but that it was important to maintain the norm, and that he would be spending the coming days making his case to the US nation.
Obama has asked for Congressional approval for launching "limited" and "proportional" US military action against Syrian regime targets, although he does not legally require it. Debate will begin in Washington, DC, on the subject on Monday.
Responding to a question on Friday, he refused to clarify what course of action he would choose if the Congress were to reject the resolution.
French President Francois Hollande, a key US ally on the issue, said his country would wait for UN inspectors to submit their findings regarding the alleged chemical weapons attack, but reiterated his country's support for military action.
Russia 'will help Syria'
Obama met with Putin on the sidelines of the summit on Friday, but the two remain at odds over the best way forward in Syria, the Russian president said.
Putin drew a different picture from Obama of discussions at the summit, saying that of those countries present, a majority were against launching a military strike.
Putin said that the US, Canada, Turkey, France and Saudi Arabia came out in support of taking military action during a debate on Thursday, with Russia, China, India, Indonesia, Argentina, Brazil, South Africa and Italy coming out against it.
He said that UK PM David Cameron had supported taking military action, even though his parliament had overruled him on the subject.
Responding to a question, Putin said "we will help Syria" in the event of a foreign military intervention, without detailing exactly what such support would entail.
He said that the current evidence on the chemical weapons attack having been carried out by the government was not convincing, and suggested that rebel forces had launched the attack in order to provoke an international military strike against Assad's forces.
The United States says that 1,429 people were killed in the alleged chemical weapons attack in the Eastern Ghouta suburbs of Damascus on August 21, while aid groups have put that number at closer to 355.
'Unprecedented' human crisis
On Friday, EU defence ministers meeting in the Lithuanian capital Vilnius, concluded that the Syrian government was responsible for the strike, and foreign ministers are due to discuss the issue.
Opposition to military action, however, has been growing, and on Friday both UN Secretary-General Ban Ki-moon and UN-Arab League Joint Envoy Lakhdar Brahimi made the case that there was no military solution to the Syrian conflict, and that any such action would first require UN Security Council approval.
More than 100,000 people have been killed in the conflict, and the UN refugee agency says about one third of Syria's pre-war population of 20.8 million have fled their homes, either to other countries or safer areas within Syria.
Ban termed the humanitarian crisis in the country as being "unprecedented".
As tensions in the region mount ahead of the possible military action, the US on Friday warned its citizens against all travel to Lebanon, and also announced that it was evacuating "non-emergency personnel" from its embassy in Beirut.
It announced similar measures for its consulate in the southeastern Turkish city of Adana.