Syria threatens to bomb Jordan, Israel, turkey if attacked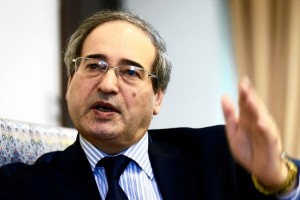 One of the Syrian regime's top diplomats threatened retaliation—as the U.S. Congress weighs military strikes against his government, according to a report by the wall Street Journal.
Deputy Foreign Minister Faisal al-Mekdad warned in an interview with The Wall Street Journal at his office in Damascus on Tuesday of the repercussions of a U.S. attack on Syria. He said Damascus would strike back not only at Israel, but also at Syria's neighbors Jordan and Turkey if they take part in any U.S.-led operation.
"Once the war starts nobody can control what will happen," he said. "We believe that any attack against Syria will definitely result in chaos in the entire region if not beyond."
A green light from Congress to attack Syria would be "a tragedy against the Syrian people and the American people and all people in the region," said the diplomat, who served as his country's envoy to the United Nations in New York from 2003 to 2006.
US President Barack Obama said on Friday that he had decided it was necessary to take military action against the regime of President Bashar al-Assad and would seek authorization from Congress, after his administration reported it had overwhelming evidence that the Syrian army had used chemical weapons in the Damascus suburbs on Aug. 21.
Mekdad rejected the U.S. conclusions. "I assure them that the Syrian government did not use chemical weapons against Syrians and will not use them against Syrians and will always be ready for dialogue with the American people and its representatives."
"I know Secretary Kerry personally and I hope he does not go so far in plans that will kill more Syrians," he added, referring to the U.S. secretary of state, who has been one of the Obama administration's most prominent advocates of military action.
Asked about his feelings about what the U.S. said were the deaths of more than 1,400 people, including more than 400 children, in the attacks, Mekdad said: "Any wars of this type are horrible and are unacceptable; we are in a state of war in Syria. We cannot ignore the suffering of the entire Syrian people but those criminal gangs in Syria, the armed groups, have falsified events in Syria since the beginning." The Syrian regime always refers to the opposition rebels who are seeking to topple the regime as criminals and terrorists.
Mekdad said Syria's two main allies, Iran and Russia, would stand by the regime in the face of any U.S. action, but didn't offer specifics.
"We are being supplied until this minute with Russian arms to defend ourselves," he said.
He said Tehran, which backs the Assad regime and the Hezbollah militia in neighboring Lebanon, would intervene to help Syria because Iran's fundamental strategic interests would be at stake.
A Hezbollah official admitted during a phone call to the Iranian embassy in Beirut that the syrian regime was behind the Chemical gas attack according to a report by the Der Spiegel magazine
WSJ