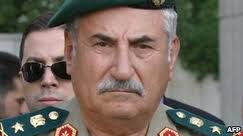 Former Syrian Defense Minister General Ali Habib, a prominent member of President Bashar al-Assad's Alawite sect, has defected and is now in Turkey, a senior member of the opposition Syrian National Coalition (SNC) told Reuters on Wednesday.
If his defection is confirmed, Habib would be the highest ranking figure from the Alawite minority to break with Assad since the uprising against him began in 2011.
It comes at a time when forces loyal to Assad have made progress against the rebels on the battlefield but face the possibility of a U.S. military strike in response to a chemical weapons attack in Damascus for which Washington blames the Syrian leader.
"Ali Habib has managed to escape from the grip of the regime and he is now in Turkey, but this does not mean that he has joined the opposition. I was told this by a Western diplomatic official," Kamal al-Labwani said from Paris.
Syrian state television denied Habib had left Syria and said he was still at his home. Turkey's foreign minister, Ahmet Davutoglu, said he could not at the moment confirm Habib had defected.
A Gulf source told Reuters that Habib had defected on Tuesday evening, arriving at the Turkish frontier before midnight with two or three other people. He was then taken across the border in a convoy of vehicles.
His companions were fellow military officers who supported his defection, the source said. They were believed to have also left Syria but there was no immediate confirmation of that.
Labwani said Habib was smuggled out of Syria with the help of a Western country.
"He will be a top source of information. Habib has had a long military career. He has been effectively under house arrest since he defied Assad and opposed killing protesters," Labwani said.
COORDINATED WITH U.S.
An officer in the opposition Free Syrian Army, who did not want to be identified, said the Habib appeared to have coordinated his defection with the United States.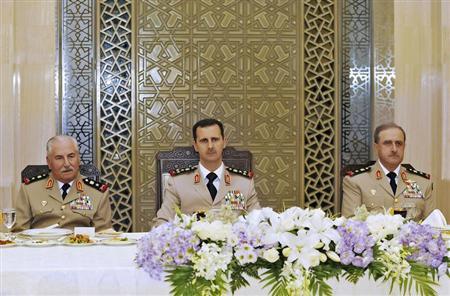 Former military officers who have defected from Assad's army say it had about 36,000 officers, of which 28,000 are Alawites. The remaining 8,000 are a mix of Sunni Muslims, the majority community in Syria, and members of minorities such as Christians and Druze, they said.
Born in 1939, Habib was Defence Minister from 2009 to August 2011, when he was replaced for what official media said were health reasons. The Gulf source Habib had spent some time under house arrest.
After rumors that he was dismissed for opposing the killing of peaceful pro-democracy protesters, Habib was shown on state television pledging his loyalty to the Assad government. Western diplomats said the statement appeared to have been made under duress.
Habib participated in the 1973 October War against Israel, in which Syria failed to recapture the occupied Golan Heights, and in the 1990-91 Gulf War, when Hafez al-Assad, Bashar's father and predecessor as president, symbolically joined a U.S.-led coalition that ousted Iraq occupation troops from Kuwait.
"Habib is a simple and honest. Unlike the Assads he is not corrupt," said another military defector who served under Habib.
When he was chief of staff he did not like the Assad family's readiness to use violence as a political tool and when demonstrators started being killed he could no longer remain a "yes man", the defector said.
"His defection will rattle the Alawite community because it will be seen as another man jumping off a sinking boat, indicating the coming fall of the regime," the defector told Reuters
Reuters