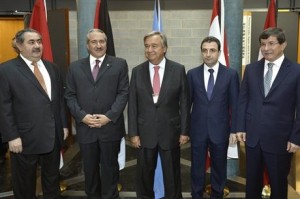 The UN refugee agency and Syria's overburdened neighbours Lebanon, Turkey, Jordan and Iraq on Wednesday urged the international community to put differences aside and find a common solution to end the "cycle of horror".
While Washington and Moscow insist they both want a political solution to the conflict in the shape of negotiations, Syria's ally Russia has repeatedly frustrated the US by blocking UN Security Council action against the regime of President Bashar al-Assad.
"We strongly appeal to the international community to overcome existing differences and come together to stop the fighting," Antonio Guterres, the UN High Commissioner for Refugees, said as he read a joint statement after talks with ministers from the four countries.
"A political solution to end this cycle of horror is urgently needed. There is no humanitarian solution to the Syrian crisis. Rather there needs to be a political solution that ends the humanitarian crisis," he said.
Guterres was flanked by Lebanon's Minister of Social Affairs Wael Abu Faour, plus Jordan's Foreign Minister Nasser Judeh and his Turkish and Iraqi counterparts Ahmet Davutoglu and Hoshyar Zebari.
The four countries have received the overwhelming majority of the two million Syrians who have fled their homeland since the war started in March 2011, and are being stretched to the limit as they cope with the influx.
On average, some 5,000 Syrians continue to flee their country every day, according to UN data.
Counting refugees and the estimated 4.2 million people the UN says have been displaced within Syria, nearly a third of the country's pre-war population of 20.8 million have now been uprooted.
"What Turkey, Lebanon, Jordan and Iraq are doing is an enormous service on behalf of the international community as a whole," Guterres said, adding that the nations were "paying an extremely heavy price" for their generosity.
"The impact of such a large number of refugees on their economies, their societies, the impact of a conflict next door on their national security, is something that needs to be fully recognised by the international community," he said.
As a result of the war, Lebanon's population has risen by more than a fifth and Jordan's by over 10 percent.
There are 720,000 registered refugees in Lebanon, 520,000 in Jordan, 464,000 in Turkey and 200,000 in Iraq, according to UNHCR data, though the real numbers could be far higher.
The conflict has claimed over 100,000 lives.
France 24/AFP
Top Photo: From left to right: Iraqi Foreign Minister Hoshyar Zebari, Jordan's Foreign Minister Nasser Judeh, UN High Commissioner for Refugees, UNHCR, Portuguese Antonio Guterres, Lebanon's Minister of Social Affairs Wael Abu Faour and Turkey's Foreign Minister Ahmet Davutoglu pose for a group photo prior to a Ministerial meeting of Syria bordering countries at the headquarters of UNHCR in Geneva, Switzerland, Wednesday, Sept. 4, 2013. With two million Syrian refugees having arrived in neighboring countries, UNHCR is hosting a meeting with government ministers from Iraq, Jordan, Lebanon and Turkey on the urgent support needs of countries hosting large refugee populations. (AP Photo/Keystone, Martial Trezzini)