Russian MPs want to fly to U.S. to sway Syria vote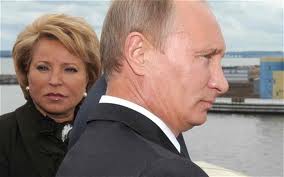 Russian lawmakers want to travel to Washington to urge the U.S. Congress not to back President Barack Obama's plan for military strikes on Syria, the speaker of the upper house of parliament told President Vladimir Putin on Monday.
Dismissing U.S. accusations that the Syrian government had killed hundreds of its own people with poison gas as nothing but "talk", senior legislator Valentina Matviyenko said both chambers were ready to send delegations.
Russia is one of the main allies of Syrian President Bashar al-Assad and has already blocked several Western-led resolutions in the U.N. Security Council to sanction him over his crackdown on a now 2-1/2-year-old uprising.
"I think if we manage to establish a dialogue with our partners in the U.S. Congress, to exchange arguments, we could possibly better understand each other," Matviyenko, speaker of the Federation Council, told Putin at his residence near Moscow.
"We hope that the U.S. Congress will occupy a balanced position in the end and without strong arguments in place … will not support the proposal on use of force in Syria," Matviyenko added.
Obama said on Friday he would seek Congressional authorization for punitive action against Assad after what Washington said was a sarin gas attack that killed more than 1,400 people.
Putin rejected the U.S. assertions hours later, saying on Saturday he was convinced the August 21 attack was staged by Assad's opponents to provoke military intervention.
It was uncertain what sort of reception a Russian delegation would receive in the United States.
Both countries passed legislation last year to punish the other for alleged human rights violations. Moscow has also defied Washington by granting temporary asylum to former U.S. spy agency contractor Edward Snowden.
Reuters
Photo: Valentina Matviyenko speaker of the upper house of parliament shown with Russian President Vladimir Putin