Gorbachev: Obama right to seek backing from Congress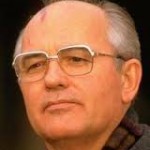 Former Soviet leader Mikhail Gorbachev said Monday US President Barack Obama was right to seek backing from Congress for military action in Syria, but warned that intervening raised dire risks.
Obama has faced criticism for alleged indecisiveness and for passing the ball to US lawmakers after previously taking a hawkish tone over an alleged chemical attack in Syria.
"If he's not decisive enough in shooting and bombing, I think it's a good kind of indecisiveness," Gorbachev told a conference of Green Cross International, a peace and environmental organisation he founded in 1993, two years after his Kremlin ouster.
"If, however, they decide to shoot without regard for the opinion of the people everywhere, including the United States, then I think the consequences could be very bad," he warned.
Much of the international community, including the United States, Britain and France, has blamed the Syrian regime for an August 21 chemical attack near the capital Damascus that killed hundreds.
But Russia, a longtime backer of Syrian President Bashar al-Assad, has supported the regime and called the evidence it used chemical weapons unconvincing.
Gorbachev's reforms heralded the 1991 collapse of the Soviet Union and the end of the Cold War.
Moscow's ties with the West have chilled anew in the past decade, however, with the crisis in Syria the latest flashpoint.
While Washington and Moscow have vowed to try to broker Syria peace talks, Russia's Foreign Minister Sergei Lavrov said Monday that military action would put them on ice for "a long time, if not forever."
Gorbachev made no comment on the Kremlin's Syria policy, sparking a diplomatically toned rebuke from former Dutch premier Ruud Lubbers, ex-head of the United Nations' refugee agency.
"Russia needs to understand that the presence of chemical weapons in Syria is a problem for everyone. We know there are chemical weapons in Syria. This is a responsibility also for Russia," Lubbers told the conference.
"It should not be who's wrong and right, but a common responsibility of the two capitals, Moscow and Washington," he said.
Expatica