UN: Obama's bid on Syria part of push for global backing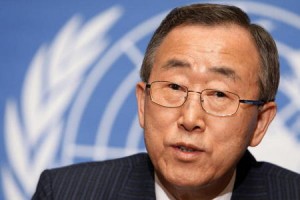 U.S. President Barack Obama's decision to seek congressional approval for possible military action against Syria can be seen as part of an effort to forge a global consensus on responding to the use of chemical arms anywhere, the United Nations said on Sunday.
The world body was responding to Obama's announcement on Saturday that he will ask for congressional consent before taking military action against Syria for a poison gas attack on Syrian civilians that he blames on President Bashar al-Assad's forces. The process of seeking a congressional vote was likely to delay any strike for at least nine days.
U.N. Secretary-General Ban Ki-moon views Obama's decision "as one aspect of an effort to achieve a broad-based international consensus on measures in response to any use of chemical weapons," U.N. spokesman Martin Nesirky said.
"The use of chemical weapons will not be accepted under any circumstances," he added. "There should be no impunity and any perpetrators of such a horrific crime against humanity must be held accountable."
U.S. Secretary of State John Kerry said on Sunday tests showed that sarin nerve gas was used in a deadly August 21 chemical attack near Damascus, as he sought to build the case to convince skeptical U.S. lawmakers to authorize a military strike against the Syrian government. The United States says 1,429 people were killed, 426 of them children.
Nesirky said Ban spoke earlier on Sunday with Ake Sellstrom, head of the U.N. chemical weapons inspection team that left Syria on Saturday. Sellstrom is currently in The Hague preparing the analysis of samples and evidence collected at the site of the August 21 attack.
"In light of the horrendous magnitude of the 21 August incident … the Secretary General asked Dr Sellstrom to expedite the mission's analysis of the samples and information it had obtained without jeopardizing the scientific timeline required for accurate analysis."
U.N. diplomats told Reuters on Friday that Ban explained to the five permanent Security Council members – Britain, China, France, Russia and the United States – that it would take up to two weeks before Sellstrom's report is ready.
BAN SPEAKS WITH FRENCH MINISTER
The U.N. inspectors will determine only whether chemical weapons were used on August 21 and in several other alleged poison gas attacks, not who used them. Once they have completed their work on the latest incident the inspectors plan to return to Syria to investigate other alleged gas attacks, Nesirky said.
The U.N. press office said in a statement on Ban's conversation with Sellstrom that the transfer of the samples to European laboratories for analysis will begin on Monday. It noted that two Syrian officials were observing the process.
Nesirky said that while in Syria Sellstrom's team had access to all sites it wanted to visit.
"The mission did have to overcome serious safety concerns," he said. "On one occasion, while traveling, the mission came under fire by unknown assailants in the buffer area."
Kerry said on Friday the U.N. experts cannot provide any information on the attack that Washington does not already have.
U.N. officials, however, say the world body's findings will be important because they will be widely seen as irrefutable, in contrast to doubts that could arise about national intelligence in light of the erroneous information on Iraq's weapons of mass destruction used to justify the 2003 U.S.-led invasion.
Nesirky reiterated Ban's position that there should be a negotiated end to Syria's 2-1/2 year civil war, which the United Nations says has killed over 100,000 people.
He said Ban also spoke on Sunday with French Foreign Minister Laurent Fabius. France is Obama's chief ally in calling for military retaliation against Syria for the alleged August 21 attack, which Assad's government and its ally Russia have blamed on rebels.
Britain had been a staunch advocate of air strikes against Syrian targets but pulled out after the British parliament voted against involvement in military action in Syria.
French Interior Minister Manuel Valls said on Sunday that France will not launch an assault on Syria alone and will wait for the U.S. Congress to decide whether to act.
Obama also said on Saturday that he was comfortable with the idea of bypassing the "paralyzed" U.N. Security Council.
Nesirky said Ban would likely brief the council's 10 non-permanent members on the situation in Syria in the coming week.
Russia, backed by China, has used its veto power in the Security Council three times to block resolutions condemning Assad's government and threatening it with sanctions.
The United States has bypassed the United Nations in the past when the council was deadlocked, as in the case of the Kosovo war in 1999. At that time, Washington relied on NATO authorization for its bombing campaign.
The United Nations has received at least 14 reports of possible chemical weapons use in Syria. After months of diplomatic wrangling, Sellstrom's team arrived in Syria on August 18 with a 14-day mandate to visit the country.
The U.N. team was initially going to look into three incidents, but its priority became the August 21 attack. The inspectors have also been looking into Syrian allegations that the rebels used chemical weapons three times this month against the Syrian army – allegations that Washington has dismissed.
Reuters