UN chief presses for faster chemical weapons result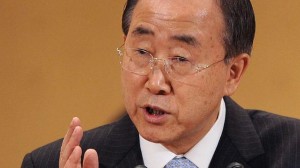 UN Secretary General Ban Ki-moon on Sunday pressed UN chemical weapons inspectors to speed up their verdict on a suspected chemical weapons attack in Syria, his spokesperson said.
Samples collected in Syria will start to be sent to European laboratories from Monday.
The UN also revealed that two Syrian government officials are observing the handling of evidence collected during a UN investigation into the August 21 attack near Damascus that prompted western threats of a military strike on President Bashar al-Assad's forces.
Pressure on the UN is mounting as the United States said on Sunday that it has proof that sarin gas was used by government forces in the attack on the Ghouta area, in the Damascus suburbs, which it says left hundreds dead.
Ban spoke with the UN chemical weapons inquiry chief Ake Sellstrom on Sunday, the UN spokesperson Martin Nesirky told reporters.
"In light of the horrendous magnitude of the 21 August incident," Ban asked Sellstrom "to expedite the mission's analysis of the samples and information it had obtained without jeopardizing the scientific timelines required for accurate analysis," Nesirky said.
"They discussed ways to further accelerate the process," he added.
The samples collected by inspectors who left Syria for their base in The Hague on Saturday will start to be sent to two laboratories in Europe from Monday, according to the spokesperson.
The United Nations has refused to announce its timeline for finishing the analysis. Ban told envoys from the UN Security Council's five permanent members on Friday that it could be ready in two weeks, diplomats said.
Sellstrom told Ban that "two Syrian officials were observing the process" of handling the samples in The Hague, according to the UN spokesperson.
Nesirky said the presence of the government officials was part of the "guidelines" for the UN inquiry which was established after a demand by the Syrian government.
Ban spoke about the Syrian crisis with French Foreign Minister Laurent Fabius on Sunday. He will leave on Tuesday for the Group of 20 summit in Russia where the more than two-year-old war will be the major topic.
NOW/AFP