Syria to reject partial UN report on alleged chemical attack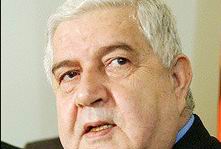 Syria will reject any partial U.N. conclusions on an alleged deadly gas attack last week before full analyses are undertaken, state television said Friday , according to a report by AFP.
The report cited Syria's foreign minister Walid Muallem as telling UN chief Ban Ki-moon during a phone conversation that his country would "refuse any partial report published by the U.N. Secretary-General before the mission finished its work and the results of analyses of samples taken by the mission came to light".
The U.N. chemical experts are on their way to Rafik Hariri International Airport and will be leaving Beirut without making any statement, MTV reported on Friday.
On the last day of chemical weapons inspections, three U.N. vehicles headed out for more on-site visits, following an early morning delay.