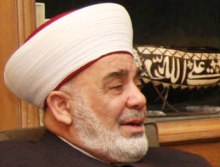 The Sunni Mufti of Mount Lebanon Sheikh Muhammad Ali al-Jouzu addressed the Friday twin bomb attacks in Tripoli in which more than 45 people were killed and 900 injured. He fiercely criticized Hezbollah chief Sayed Hassan Nasrallah.
"Hassan Nasrallah insists on taking on his adventures at the expense of the Lebanese people," he said, and added "Israel can rest since Hezbollah is doing its job by destroying Lebanon and Syria ."
The explosions took place last Friday outside the Al-Taqwa Mosque in the city's Al-Zahiriya area and the Al-Salam Mosque in the Al-Mina neighborhood.
Also, a car bomb went off last week on the main road between the Al-Rueiss and Bir al-Abed areas of Hezbollah's Beirut stronghold of Dahieh, leaving 27 people dead and at least 336 injured.
Hundreds of Hezbollah fighters have reportedly been killed in recent months in Syria and buried in Lebanon.
Today Hezbollah mourned 2 more fighters that were killed recently in Syria:
– Zulfiqar Ahmed Hammoud from the border town of Beit Lif
– Mustafa Mohammed Hamada , from Derkayva, in the Tyre district
Both were reportedly killed near Damascus by the Free Syrian Army