Charbel: Same Attackers' behind Tripoli, Dahieh Explosions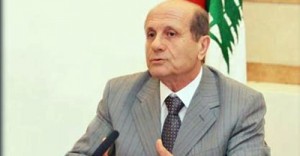 Caretaker Interior Minister Marwan Charbel said on Saturday that the same party was behind the recent bombings in Lebanon.
He was commenting on Tripoli the Rweiss bombing in Hezbollah's stronghold in the Dahieh, a  southern Beirut suburb.
"The blast in the (Beirut's southern suburb of) Rweiss and the bombings in Tripoli were orchestrated by the same party," Charbel told Hezbollah's al Manar TV on Saturday.
He added that 4 wheel drive SUVs were used in all the bombings and all the bombs had nails in them and the cars were positioned in the same manner.
He added: "The perpetrators are the same in all bombing and they aim at causing a Sunni-Shiite sectarian strife in the country ."
Powerful car bombs exploded outside two Sunni mosques in Tripoli on Friday afternoon, the Al-Taqwa Mosque in the city's Al-Zahiriya area and the Al-Salam Mosque in the Al-Mina neighborhood.
He added :" Regardless who did it these people will never be able to succeed in dividing our nation and Lebanon will be united "
Charbel said also that the cleric who was arrested earlier on Saturday in connection with the the car bombs that targeted Tripoli's Al-Salam Mosque is not a suspect and will be set free after questioning .
Sheikh Ahmad al-Gharib was arrested on Saturday, the National News Agency reported, adding that his residence was raided by the ISF Information Branch. NNA also said that rifles, machine guns , hand grenades and military maps for the city of Tripoli were confiscated from his residence.
Update : Al Jamhouriya  newspaper  reported that the bomb used  near the Salam Mosque was larger than the one used in the Rweiss attack. It weighed 175 kg of TNT  mixed with nitrate  and this reportedly explains  why the   fiery flames   were so huge  and why they resulted in the complete burning of many of the victims of the explosion. According to experts it was   the same type bomb used in the assassination in 2005 of MP Gebran Tueni . Syria at the time was accused of being behind Tueni's assassination.