Salam headed to Athens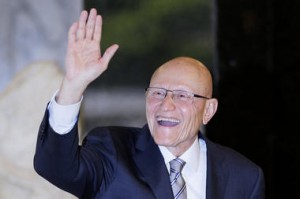 Prime Minister-designate Tammam Salam denied on Wednesday that he will head to to Saudi Arabia.This comes after Al-Joumhouria newspaper reported earlier on Wednesday that Salam will head to Riyadh to offer condolences over the death of Prince Musaed bin Abdul Aziz al-Saud, the bother of Saudi King Abdullah.

The daily said that he will also hold talks with senior Saudi officials including the chief of General Intelligence, Prince Bandar bin Sultan bin Abdul Aziz, and former PM Saad Hariri.
But Salam headed to Athens, Greece Voice of Lebanon reported on Wednesday .
This comes amid reports that President Michel Suleiman who met Salam yesterday at the Baabda palace will not approve the formation of a new cabinet if Hezbollah was excluded.
The March 14 coalition has been calling for keeping Hezbollah out of the cabinet over its role in Syria's war.
Since his appointment earlier this year Salam has been trying to form a cabinet based on giving an equal share to the rival political blocks – March 14 , March 8 and the centrists, but the Hezbollah led March 8 alliance is insisting on having a bigger share in the cabinet to allow it to veto its decisions . Salam has been opposed to giving any party a veto power ( usually referred to as a blocking third ) . He has recently been floating the idea of forming a neutral cabinet of technocrats, but Hezbollah and FPM leader MP Michel Aoun have been opposed to this idea too and this is why Lebanon is still without a government and Najib Miqati is still acting as the caretaker Prime Minister.
Salam yesterday slammed the accusations by the Hezbollah-led March 8 alliance over the cabinet formation delay, denied being responsible for the impasse and pointed out that his main aim was to form a productive cabinet that serves the nation's best interest.
"I only care about forming a productive cabinet that serves the nation's best interest " Salam told As Safir newspaper in an interview .
He expressed concern that some parties want the power vacuum to continue and a decision has already been made to block the government formation.