Obama Cancels Putin Meeting as Snowden Adds to Strains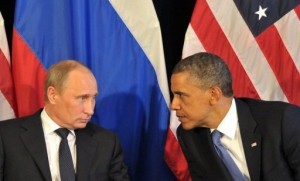 President Obama has canceled a planned summit meeting with Russian president, Vladimir V. Putin, officials said Wednesday, a response to frustration at the Russian government for refusing to send Edward J. Snowden, the fugitive intelligence analyst, to the U.S. to face charges of leaking national security secrets.
The move is also a reflection of growing tensions between the two countries on a series of other issues, including Mr. Putin's continuing support of President Bashar al-Assad of Syria.
In a statement, the White House said the president had decided to postpone the summit meeting between the two leaders after concluding that there had not been enough progress made on the "bilateral agenda" to make a meeting worthwhile.
"Given our lack of progress on issues such as missile defense and arms control, trade and commercial relations, global security issues, and human rights and civil society in the last twelve months, we have informed the Russian government that we believe it would be more constructive to postpone the summit until we have more results from our shared agenda," Jay Carney, the White House press secretary, said in a statement. Mr. Carney said Russia's "disappointing decision" to grant temporary asylum to Mr. Snowden was "also a factor" in Mr. Obama's decision.
The Kremlin expressed disappointment, especially with the president's linking of the decision to the case of Mr. Snowden. A senior aide to Mr. Putin, Yuri V. Ushakov, said that Mr. Obama was still welcome to visit, but blamed the United States for not wanting to build a stronger partnership to manage bilateral and international issues.
"This very problem underlines the fact that the United States is still not ready to build relations on an equal basis," Mr. Ushakov told reporters at the Kremlin, according to the Interfax news agency.
Mr. Ushakov met earlier with the American ambassador, Michael A. McFaul, who delivered the formal notification that Mr. Obama would not meet separately with Mr. Putin in Moscow.
The daylong meeting between the two leaders had been anticipated for months. It was to have taken place in Moscow in September around the time that Mr. Obama travels to St. Petersburg, Russia, for a meeting of the Group of 20 economic summit meeting. Officials said Mr. Obama will still travel to Russia for the economic discussions with other world leaders.
But Washington had signaled for weeks that the White House was growing annoyed by Mr. Putin's intransigence, especially on the fate of Mr. Snowden, who had been holed up for a month in a Moscow airport. Russia's decision to extend temporary asylum to Mr. Snowden last week added to the frustration, officials said.
In a late-night interview with Jay Leno on the "Tonight Show" on Tuesday, Mr. Obama expressed that frustration, saying that the decision on Mr. Snowden was "reflective of some underlying challenges that we've had with Russia lately."
"There have been times where they slip back into cold-war thinking and a cold war mentality," Mr. Obama added. "And what I consistently say to them, and what I say to President Putin, is that's the past and we've got to think about the future, and there's no reason why we shouldn't be able to cooperate more effectively than we do."
Mr. Obama's decision to forgo the summit meeting with Mr. Putin, which was first reported by The Associated Press, is a blow to Mr. Putin that will deprive him of a high-profile moment on the worldwide stage. It also threatens to add to the already chilly relationship between the two countries.
Several lawmakers in the United States had urged Mr. Obama to cancel the meeting, arguing that there should be consequences for the Russian government's refusal to cooperate on returning Mr. Snowden to face charges.
Schoolyard bully
In a statement Wednesday, Senator Charles E. Schumer, Democrat of New York, praised the cancellation.
"The president clearly made the right decision," Mr. Schumer said. "President Putin is acting like a schoolyard bully and doesn't deserve the respect a bilateral summit would have accorded him."
Mr. Obama's decision to skip the face-to-face meeting with Mr. Putin is the first time that any American president has canceled a publicly announced presidential visit to Russia since the end of the cold war.
As the Kosovo war was about to start, Russia's prime minister, Yevgeny Primakov, did order his plane to turn around en route to the United States in protest. And Mr. Putin canceled his attendance at last year's economic summit meeting at Camp David.
Mr. Obama skipped last year's Asia-Pacific economic summit meeting in Vladivostok, Russia. But Mr. Obama had never actually committed to attending because it was in September of an election year.
Officials said Mr. Obama would instead add a two-day stop in Stockholm before the Group of 20 meeting. Mr. Carney said Sweden was a "close friend and partner to the United States" that plays a crucial role on the international stage.
NY Times