U.S. senators in Cairo to press for fast return to civilian rule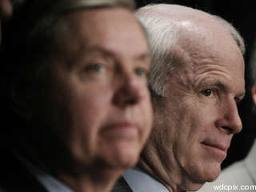 Top U.S., European and Arab envoys visited a jailed Muslim Brotherhood leader Monday on a mission to ease tensions between Egypt's military-backed government and supporters of ousted Islamist President Mohamed Morsi.
No details of the meeting emerged, but a European Union official spoke of confidence-building measures, and the two rival camps appeared to be facing critical choices 33 days after the military overthrew democratically elected Morsi.
For the military, failure to disperse the Islamists' Cairo sit-ins peacefully would leave it little choice but to use force, provoking a bloodbath that would tarnish its image and cost it world support. For the Muslim Brotherhood, a deadly confrontation would risk a ban from politics and a sweeping crackdown.
Already, some 250 people have been killed since Morsi's ouster, including at least 130 in two major clashes between security forces and supporters of the deposed president on July 8 and again on July 26-27.
The talks between U.S. Deputy Secretary of State William Burns and Khairat el-Shater took place in the prison where the Muslim Brotherhood figure is being held.
Burns was accompanied by Foreign Ministers Khalid bin Mohamed Al-Attiyah of Qatar and Sheikh Khalifa bin Zayed Al Nahyan of the United Arab Emirates, and EU envoy Bernardo Leon. No details of the meeting were given.
U.S. senators John McCain and Lindsey Graham arrived in Cairo on Monday at President Barack Obama's request to press senior Egyptians for a quick return to civilian rule.
A European Union official in Brussels said diplomats were working on confidence-building measures such as releasing detained Brotherhood officials, dropping charges against other group members and dispersing the pro-Morsi sit-ins held at two squares on opposite ends of the Egyptian capital.
Yet neither side in the stalemate has shown much interest in making concessions.
"Our position of full reversal of (the) military coup is unchanged," tweeted a Brotherhood spokesman, Gehad el-Haddad.
Ahmed el-Muslemani, a spokesman for Adly Mansour, the current interim president, said not a "single step" of the military-sponsored political road map announced the day of Morsi's ouster would be changed as part of any mediation. He also ruled out a referendum on the transition plan.
Mohammed Aboul-Ghar, leader of the liberal Social Democratic party, said the Brotherhood has already moved beyond Morsi but has yet to offer the military-backed government any concessions on the sit-ins that would lure it to the negotiating table.
"My reading is that until now the Americans and the Europeans got nothing solid (from the Brotherhood) to offer to the Egyptian leadership. It means all what they have from the Brotherhood is below expectations," he told The Associated Press.
Egypt's highest security body, led by interim President Mansour, says the clock is ticking on the sit-ins, suggesting the government is running out of patience.
"There is a time frame for (tolerating) all this and then it will be clear to everyone that those in the sit-in camps are not renouncing violence, thus leaving the state in a self-defense position," Mustafa Hegazy, Mansour's political adviser, told the AP.
Two military officials familiar with the mediation efforts said the Brotherhood was not serious about ending the stalemate, claiming Morsi supporters were stockpiling weapons and alluding to the discovery of 11 bodies of men allegedly killed by Brotherhood members for being police or military informers.
"Our main concern is to end this peacefully especially with the presence of weapons inside the camps," said one of the two officials, who spoke to the AP on condition of anonymity in line with military rules. The other said protesters could leave unharmed if the sit-ins ended, except those "known to have incited violence and hatred."
The military and police showed last month they were prepared to use deadly force. The Brotherhood calls the security forces bloodthirsty. Rights groups say the security forces used excessive deadly force, but should investigate allegations that suspected informers were being tortured in the pro-Morsi sit-in camps.
The Brotherhood has been outlawed for most of its 85 years. It became legal after the 2011 ouster of autocrat Hosni Mubarak. It went on to do well in parliamentary elections, and its rise climaxed with Morsi's defeat of Mubarak's last prime minister for the presidency in June 2012.
Many in the government claim the group has shown its true colors after Morsi's ouster, citing incitements to violence by its leaders and their hate speech against minority Christians.
Attacks blamed on militant Muslims and targeting security forces in the Sinai Peninsula significantly surged after July 3, leading many to link the Brotherhood to jihadist groups in the area. Armed resistance to any attempt to end the pro-Morsi sit-ins could be the final straw, prompting the military- backed government to disband the group and prosecute its leaders.
El-Shater, whom the diplomats visited Monday, has been charged with complicity in the killing of anti-Morsi protesters during the four days of protests that led up to the military coup. He was widely believed along with the Brotherhood's spiritual leader Mohammed Badie to be the source of real power during Morsi's one year in power.
Morsi, Egypt's first freely elected president, has been held at a secret location since his ouster. Last week, he was visited by the EU's foreign policy chief Catherine Ashton and a group of African statesmen.
Morsi himself faces accusations of conspiring with the militant Palestinian Hamas group to escape from prison in 2011.
El-Shater, Badie and four others are to go on trial on Aug. 25 on charges related to the killing of eight protesters outside the Brotherhood's Cairo headquarters during the mass protests leading up to the coup. Badie remains in hiding. Another prominent Islamist, former presidential candidate Hazem Abu Ismail, was on Monday referred to trial on charges of forgery.
The comments by el-Muslemani, Mansour's spokesman, appeared designed to debunk speculation that the flurry of diplomatic visits is likely to persuade Egypt's interim government to offer substantive concessions to Morsi's supporters in return for an end to the sit-in protests.
With the Islamist-backed constitution adopted last year suspended and the legislature dominated by Morsi's supporters dissolved, the road map provides for a new or an amended constitution to be put to a national referendum later this year and presidential and parliamentary elections early in 2014.
Washington Post