Berri defends Hezbollah over rocket attack accusations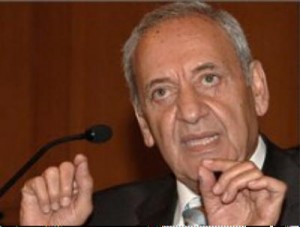 Lebanon parliament Speaker MP Nabih Berri has defended Hezbollah against accusations that it is involved in the latest rocket attack on the Baabda presidential palace area and the army headquarters.
"Hezbollah is not only innocent from this act but its ethics and its path of resistance prevent it from such a behavior," Berri, a close ally of the Iranian backed Hezbollah militant group told An Nahar newspaper in remarks published on Monday.
"The party is a respectable Lebanese political faction that does not make acts of sabotage in the country," Berri said.
The accusations made by the March 14 alliance against Hezbollah are "ridiculous," Berri also told As Safir daily in remarks published on Monday.
He added that it was a "shame" to point the finger at the party.
Berri's remarks came after Lebanese Forces leader Samir Geagea, a key figure of the March 14 alliance hinted on Sunday that the rocket attacks on the Baabda presidential area last Thursday came from a Hezbollah stronghold and accused the party of declaring war on the state of Lebanon,its people and institutions .
"The rocket attacks came the same day of the president's speech on Army Day. They were launched from areas that come under the military control of a certain party." Geagea said un reference to Hezbollah.
He said that the rockets were probably placed on trucks in the areas of Dohat Aramoun and Bshamoun, since the military experts haven't found the launchpads.
"Who has the ability to move freely" in those areas? Geagea wondered, saying he would leave it to the Lebanese people to decide on the answer, in a hint to Hezbollah's involvement in the attacks.
On Thursday, two rockets were fired at the Baabda area .
One landed within the security perimeter of the Presidential Palace and the other within the security perimeter of the Army headquarters .
The attack came hours after President Suleiman gave a speech during the ceremony marking the 68 the Army Day in which he criticized Hezbollah's defense of the Syrian regime
Lebanon's Caretaker Interior Minister Marwan Charbel condemned on Saturday the Thursday rocket attacks , declaring that they clearly targeted the Lebanese army and the presidency and stressing that President Michel Suleiman's speech on the Army day was not targeting the resistance. Hezbollah is usually referred to as the resistance .