Suspect in Burgas bombing flew to Lebanon before blast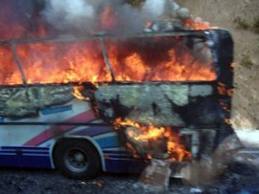 A man suspected of organizing a bus bombing in the Bulgarian Black Sea city of Burgas last year flew to Lebanon two days before the attack that killed five Israelis and their driver, Polish news website tvn24.pl reported.
Bulgaria said last month it believed the Lebanese Islamist group Hezbollah was behind the July 18, 2012, bus bombing that targeted Israeli holiday-makers, but it has not revealed all its evidence and Hezbollah denies any involvement.
If one of the suspects flew to Lebanon, where Hezbollah is based, so near to the date of the bombing, that could strengthen the arguments of some EU states and the United States who say Hezbollah was complicit and want firm action against the group.
The tvn24.pl website said, without naming its sources, that Meliad Farah, a 32-year-old Australian citizen of Lebanese origin, took the LO 145 flight from the Polish capital Warsaw to Beirut in Lebanon on July 16.
Earlier on the same day, Farah, also known as Hussein Hussein, had flown to Warsaw from Prague on the LO 526 flight, also operated by Polish national carrier LOT, the website said.
Bulgarian prosecutors allege that Farah and a second man, Hassan El Hajj Hassan, provided the explosive device and logistical support, while a third man carried out the bombing itself. Prosecutors said this man died in the attack.
Dariusz Slepokura, spokesman for the regional prosecutor's office in Warsaw, said Bulgaria had asked Polish authorities at the beginning of March to look into the alleged stay of one of the suspects in Poland.
He said Polish prosecutors had sent a reply to Bulgaria on May 13. Slepokura declined to discuss the details of the case.
The European Union agreed on July 22 to put the armed wing of Hezbollah on its terrorism blacklist over concerns the Lebanese militant group was involved in the deadly bus bombing in Burgas and in the Syrian war.
Reuters