Putin receives Saudi top spy in Moscow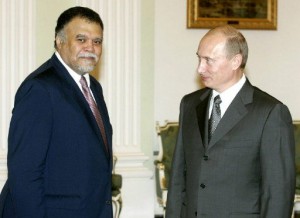 Russian President Vladimir Putin met in Moscow with Saudi Intelligence Chief Prince Bandar Bin Sultan on Wednesday, Itar Tass news agency reported.
"A broad range of issues in bilateral relations, the situation in the Middle East and North Africa have been discussed," Russian President's press secretary Dmitry Peskov was quoted as telling  reporters.
Peskov reportedly gave no specific  details about the talks in the Russian capital, which come amid strained relations between Moscow and Riyadh over the conflict in Syria, Hezbollah's Al Manar  TV reported on Wednesday.
Saudi Arabia has been strongly supportive of the   rebels  battling the  forces loyal to the embattled president Bashar al Asad .  On the hand  Russia, which is the largest arms supplier to Syria has been Assad's  key ally  against the rebels who are trying to topple the regime . Russia's continued support for the Syrian regime has infuriated   Saudi Arabia and its Western allies.
Prince Bandar , who served in Washington from 1983 to 2005   and who was named  Saudi intelligence chief about a year ago  has  also been serving as Secretary-General of  Saudi Arabia's  National Security Council since October 16, 2005.  During his tenure in Washington, Prince Bandar  was considered the most influential Middle East envoy served as the Dean of the Diplomatic Corps.
He is the son of the late Prince Sultan bin Abdulaziz Al-Saud, who died in 2011.
Photo:  File photo of  Russia's President Vladimir Putin (R) and Secretary General of Saudi Arabia's National Security Council Prince Bandar Bin Sultan during their meeting  in Moscow, in August 2007.     AFP PHOTO