Egypt sidesteps German FM request to meet Morsi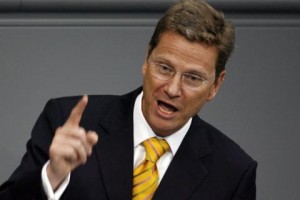 The Egyptian presidency said it had received a request from German Foreign Minister Guido Westerwelle to meet detained former president Mohamed Morsi, but hinted it might not have the authority to allow such visit, Al-Ahram Arabic news website reported.
In a Wednesday statement, the presidency said it had informed the German foreign minister that "the former president is under investigation and is facing numerous charges," suggesting it may not have the authority to accept Westerwelle's meeting request.
The German foreign minister is expected to visit Cairo late on Wednesday to discuss the political situation in Egypt with interim government officials and a number of Muslim Brotherhood members.
EU Foreign Policy Chief Catherine Ashton met Morsi for two hours late on Monday at an undisclosed location.
Morsi was "well," Ashton said at a press conference in Cairo the day after the meeting.
Morsi refused to meet a human rights delegation on Saturday to protest being denied permission to speak with his family.
Westerwelle urged the Egyptian authorities this week to prevent further violence after police clashed with pro-Morsi protesters on Saturday, leaving more than 80 dead, mostly civilians.
Morsi was also visited on Tuesday by a delegation from the African Union Wise Men Committee delegation, led by former Malian president Alpha Omar Konare.
The AU had suspended Egypt's membership in the group shortly after Morsi's deposition.
Both Ashton and the AU meetings aimed at reaching a resolution to the current impasse, as Morsi's supporters hold a sit-in in Cairo and daily protests across the country demanding his reinstatement.
Some of the marches turned violent on more than several occasions as clashes between the former president's supporters and opponents erupted.
Morsi was deposed by the military on 3 July amid mass protests against his rule.
Ahram