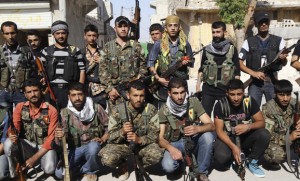 Jihadist groups linked to Al-Qaeda have taken hostage around 200 Kurdish civilians after violent clashes with Kurdish fighters in two villages of eastern Syria, according to a report by AFP.
"Fighters of Al-Nusra Front and the Islamic State of Iraq and the Levant have seized control of Tall Aren village in Aleppo province and are laying siege to another village nearby, Tall Hassel. They have taken hostage around 200 civilians from the inhabitants of the two villages," said the Syrian Observatory for Human Rights.
According to reports the main reason behind the fighting between the kurds and the Jihadists is the control over the Syrian oil.
The battle for oil started when the Kurds announced their intention to establish a transitional administration that would control — once its foundations were set — the major oil fields of Rmeilan and Suwaidiyah in northeastern Syria.
The failure of successive attacks by jihadists from Jabhat al-Nusra and the Islamic State of Iraq and Syria (ISIS) against Ras al-Ain — and their inability to break through the impregnable Kurdish defenses — signaled the beginning of the battle for control over the economic nerve of the war effort, according to a report by AL Monitor
Last June the oil fields of Rmeilan have been the scene of fierce tank and artillery battles. Officials from the Kurdish Democratic Union Party (PYD) have stated that a force of 500 predominantly Jabhat al-Nusra militants had tried, in vain, to smash through the defensive lines organized by Kurdish Popular Protection Units around the main production facility at Rmeilan.
Photo: Kurdish fighters from the Popular Protection Units (YPG) pose for a picture in Aleppo's Sheikh Maqsoud neighbourhood, June 7, 2013. Kurdish fighters from the YPG joined the Free Syrian Army to fight against forces loyal to Syria's President Bashar al-Assad. Picture taken June 7, 2013. REUTERS/Muzaffar Salman (SYRIA – Tags: CIVIL UNREST POLITICS CONFLICT) – RTX10USO
This error message is only visible to WordPress admins
Error: No connected account.
Please go to the Instagram Feed settings page to connect an account.