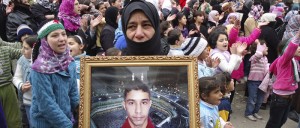 A UN rights envoy on Monday highlighted the plight of thousands of people who have been abducted in the Syrian war.
Women gather outside government detention centers carrying photos of husbands and sons in the hope that they have been seen inside, Paulo Sergio Pinheiro, head of an inquiry into Syria, told the UN General Assembly.
"One of the most insidious aspects of the Syrian conflict has been the disappearance of thousands of people from their homes, at checkpoints and from the streets," Pinheiro told the 193-member body.
One man interviewed by the UN inquiry after spending more than a year detained by President Bashar al-Assad's intelligence services "was confronted upon his release by dozens of women thrusting photographs of their husbands, sons and fathers towards him, hoping that he had seen some of them during his detention," he added.
The detentions are "a gateway to the commission of further crimes such as torture," said the official, who has released several reports which catalog abuses in the 28-month-old war. The UN says that more than 100,000 people have died in the conflict.
"Torture, as documented in our reports, continues to be committed on a widespread and systematic basis, most frequently inside the detention centers of government intelligence agencies," Pinheiro said.
"Torture has also allegedly occurred inside state and military hospitals. Some anti-government armed groups also torture captured soldiers during interrogations, employing the same methods used by intelligence agencies," he added.
"Massacres and other unlawful killings are perpetrated with impunity," Pinheiro said. "Most have been perpetrated by pro-government forces. Unlawful killings by anti-government armed groups have occurred, notably in Aleppo, Al-Raqqa and Deir Ezzor governorates."
Syria's UN envoy Bashar Jaafari slammed the UN rights investigation's reports as "absurd."
AFP
Photo: A demonstrator holds a picture of a missing relative during a protest against Syria's President Bashar al-Assad in Baba Amro, near Homs REUTERS
This error message is only visible to WordPress admins
Error: No connected account.
Please go to the Instagram Feed settings page to connect an account.