Aoun accuses the president of tampering with the constitution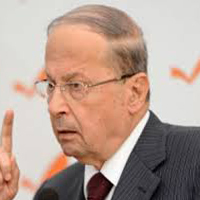 Free Patriotic Movement leader MP Michel Aoun attacked the Lebanese president and the Lebanese authorities after his weekly meeting of Change and Reform bloc accusing them of tampering with the constitution and vowed to fight" the higher authorities to preserve the constitution".
Aoun was responding to the decision by Lebanese president Michel Suleiman, caretaker PM Najib Mikati and Caretaker Defense Minister Fayez Ghosn to postpone the retirement of the Lebanese army chief Jean Kahwaji for one year.
The decision will be officially announced on Wednesday  according to Ghosn .
"The ruler must be a role model for respecting the laws and must be the guardian of the constitution and laws and must abide by them. Gradual extension has become a rule for those who have lust for power and we don't know when will this rule come to an end. " He said in a possible reference to the extension of Parliament mandate .
Aoun added: "The extension decree violates Article 65 of the Constitution and this should send the minister concerned to court."
Aoun was reportedly referring to Ghosn who represents his ally MP Suleiman Franjieh in the outgoing cabinet
Aoun aded: "We want to immunize the military institution against those who want to tamper with its hierarchy and are issuing edicts that are harming the military hierarchy and manipulating the law."
Aoun threatened to fight the decision all the way :
"We have decided to form a national front for defending the constitution, which would consist of individuals who are representative of their society, with the aim of preserving our state and preventing its disintegration."
Aoun has been opposed to the extension of Kahwaji's term ever since the issue was raised. Kahwaji reaches the retirement age of 60 at the end of September.
Aoun wants one of his closest relatives to take over the post. He proposed on June 30 appointing his son-in-law General Chamel Roukoz who is currently the commander of Lebanese Commando Regiment ( Maghaweer) as the new army chief.