Syrian opposition chief not optimistic over Geneva talks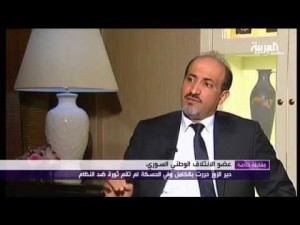 The new head of the main Syrian exile opposition group says he is prepared to attend a peace conference in Geneva with representatives of President Bashar al-Assad of Syria without preconditions.
But the group's new president, Ahmad al-Jarba, said in an interview in New York on Saturday that he wanted assurances that there would be a deadline for making progress.
"We believe there should be a precise time frame," Mr. Jarba said. "The regime is used to manipulating the process and wasting time."
Mr. Jarba, who met last week with Secretary of State John Kerry, said that he would not propose a specific deadline until the talks are closer at hand. But Burhan Ghalioun, a Syrian opposition member who participated in the meeting with Mr. Kerry, said that the opposition believes "Geneva must accomplish something in the first six months."
Asked about Mr. Jarba's comments, senior American officials said there was agreement in the meeting with Mr. Kerry that the goal of Geneva would be to pursue a political solution as quickly as possible, but "there was not a time frame set."
With the death toll among both sides in Syria exceeding 100,000, Mr. Kerry has continued to press for an international conference in Geneva, a proposal that is facing formidable obstacles, including Russia's insistence that Iranian officials attend.
Many experts have argued that if the talks are ever convened they are unlikely to make headway in the near term, as Mr. Assad, drawing on arms from Russia and Iran, appears to have the upper hand in the fighting and no interest in yielding power.
Still, American officials have argued that it is important for the opposition to attend the conference to maintain Western support, and because they hope the forum might eventually provide a framework for an agreement to establish a post-Assad transitional government, although it could take months — and perhaps years. Sitting down with representatives of the Assad government, however, remains a delicate issue for the group, which understands that its cooperation on the political front strengthens its appeals for Western military support, but which is also striving to build up its credibility within Syria. That task, opposition officials worry, will be all the more difficult if the city of Homs falls to Mr. Assad's forces or if the Syrian military is pounding the rebels with artillery, airstrikes and rockets while talks drag on.
"We will lose all credibility if the regime draws us into three or four years of talks, which have no substance," Mr. Ghalioun said.
Mr. Jarba called the military situation in Homs "extremely difficult," but "not impossible."
A leader of the Shammar tribe, which has branches in Saudi Arabia and Iraq, Mr. Jarba, 44, was trained as a lawyer and has construction, real estate and other business interests in the Persian Gulf. Twice imprisoned by Mr. Assad, he made his first visit to the United States last week to attend a closed session of the United Nations Security Council. He met on Thursday with Mr. Kerry in New York.
On July 6, Mr. Jarba, with the support of Saudi Arabia, was elected by a narrow margin as president of the National Coalition of Syrian Revolutionary and Opposition Forces, also known as the Syrian National Coalition. Saudi Arabia is one of the main backers of the resistance, which has been vying for influence with Qatar. Mr. Jarba insisted, however, that he had strong ties with ruling families throughout the Persian Gulf.
Discussing his plans to govern areas that had been wrested from Syrian government control, Mr. Jarba acknowledged that Shariah courts had been set up by Islamist rebels but said his goal was to replace them with civil courts. While saying there were no preconditions for attending the Geneva talks, Mr. Jarba said that the opposition was asking that the Assad government take "positive steps," including the release of prisoners, that the coalition could present to the Syrian public to show that attending the talks was worthwhile.
Mr. Ghalioun said the opposition had told Mr. Kerry in their meeting that such steps also needed to include an end to artillery attacks, airstrikes and missile launches by the government forces.
That, he said, prompted Mr. Kerry to ask what the resistance might do in return, an important question as the opposition coalition does not control all the rebel groups, especially extremist factions like the Al Nusra Front.
Mr. Ghalioun quipped that the opposition would renounce the use of chemical weapons, which American officials say the rebels neither possess nor can access.
Mr. Jarba said that Mr. Kerry had mentioned that the opposition could put Mr. Assad on the defensive politically by attending the talks. But Mr. Jarba said he had little confidence that the Geneva talks would yield a breakthrough.
"I believe Geneva might happen," he said. "But will it produce a political solution? This is the question. I am not overwhelmingly optimistic because I know how this regime thinks."
NY Times