Israel, Palestinians agree to 9 months time-line for talks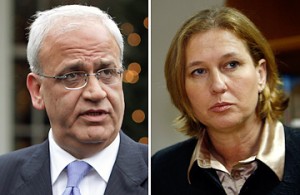 The Israeli and Palestinian delegations to renewed peace talks have agreed in principle to continue negotiations for at least nine months, the US State Department said Monday.
"They have all agreed to focus on having talks not just for the sake of talks, but this is the beginning of direct final status negotiations on a nine-month, at least a nine-month, timetable," spokesperson Jen Psaki said.
"They have agreed to work together through the course of that time," she added, speaking as the delegations arrived in Washington ahead of a dinner to mark the resumption of talks.
The United States invited the parties to a new round of talks in order to revive the stalled peace process, which last came to a halt in September 2010.
Psaki said the nine-month window was "not a deadline."
"This is an agreement that they will work together for at least that time period on this effort," she said.
"So we're going to make every effort to reach an agreement within that time frame, but again, if we're making progress and we're continuing to make progress, this is not a deadline."
AFP