PFLP rejects the new Israeli Palestinian peace talks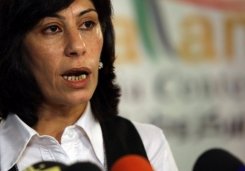 The faction of the Palestine Liberation Organization rejected the new peace talks with Israel just hours before their scheduled resumption in Washington on Monday after a three-year break.
The leftist Popular Front for the Liberation of Palestine said that talks' resumption was a unilateral move by Palestinian leader Mahmud Abbas which did not have the backing of the PLO as a whole.
"The PFLP is against a return to negotiations," said one of the party's leaders, Khaleda Jarar ( pictured ).
"It is an individual move," she said, in allusion to Abbas.
"These talks will be presided over by the United States, just like Oslo 20 years ago," she said of the negotiations that led up to the 1993 accords for limited self-rule.
"We went to the UN precisely to take our case out of US hands."
The last was a reference to the Palestinians successful bid for upgraded status at the United Nations last November, which was strongly opposed by both Israel and the United States.
Washington was to host preliminary talks later on Monday between Palestinian chief negotiator Saeb Erakat and his Israeli counterpart, Justice Minister Tzipi Livni.
The last round of direct negotiations between the two sides broke down in September 2010 just weeks after they started.
US Secretary of State John Kerry visited the region six times in as many months to broker the resumption of negotiations.
About the PFLP
The Popular Front for the Liberation of Palestine (PFLP) or al-Jabhah al-Sha`biyyah li-Taḥrīr Filasṭīn, is a Palestinian Marxist-Leninist and revolutionary leftist organization founded in 1967. It has consistently been the second-largest of the groups forming the Palestine Liberation Organization (PLO), the largest being Fatah. Currently the PFLP is boycotting participation in the executive committee of the PLO. It considers both the Fatah-led government in the West Bank and the Hamas government in the Gaza Strip as illegal due to the lack of new elections to the Palestinian National Authority since 2006. PFLP is described as a terrorist organization by the United States, Canada and the European Union.
The PFLP has generally taken a hard line on Palestinian national aspirations, opposing the more moderate stance of Fatah. It opposes negotiations with the Israeli government, and favors a one-state solution to the Israeli–Palestinian conflict.
France 24