37 dead in bus plunge off southern Italy highway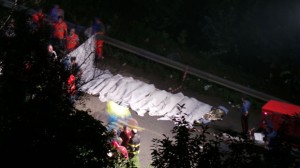 A tour bus filled with Italians returning home after an excursion plunged off a highway into a ravine in southern Italy on Sunday night after it had smashed into several cars that were slowed by heavy traffic, killing at least 37 people, said police and rescuers.
Flashing signs near Avellino, outside Naples, had warned of slowed traffic ahead along a stretch of the A116 autostrada, a major highway crossing southern Italy, before the crash occurred, said highway police and officials, speaking on state radio early Monday. They said the bus driver, for reasons not yet determined, appeared to have lost control of his vehicle.
Hours after the crash, firefighters said that they had extracted 37 bodies — most of the dead were found inside the mangled bus, which lay on its side , while a few of the victims were pulled out from underneath the wreckage, the Italian news agency ANSA said.
State radio said 11 people were hospitalized with injuries, two of them in very critical condition.
It was not immediately known if there were other survivors or any missing. Reports said as many as 49 people had been aboard the bus when it ripped through a guardrail after slamming into several cars, then plunged some 30 meters (100 feet) off the highway and into a ravine near a wooded area.
State radio quoted Avellino police as saying the bus driver was among the dead.
Occupants of cars which were hit by the bus stood on the highway near their vehicles. One car's rear was completely crumpled, while another was smashed on its side. It was not immediately known if anyone in those cars had been injured.
The highway links western and eastern Italy across the south, and first reports said the passengers had spent the day in Puglia, an area near the Adriatic on the east coast famed for religious shrines. But on Monday, a state radio reporter at the scene said authorities told him that the bus had been bringing the passengers home after an outing to a thermal spa near the town of Benevento, not far from Avellino.
Most of the passengers were from the Campania area around Naples, ANSA said.
The bus dove off the highway near the town of Monteforte Irpino in Irpinia, a largely agricultural area about 60 kilometers (40 miles) inland from Naples and about 250 kilometers (160 miles) south of Rome.
A reporter for Naples daily Il Mattino, Giuseppe Crimaldi, told Sky TG24 TV from the scene that some witnesses told him the bus had been going at a "normal" speed on the downhill stretch of the highway when it suddenly veered and started hitting cars. He said some witnesses thought they heard a noise as if the bus had blown a tire.
A local prosecutor arrived at the crash scene to begin an investigation into the cause of the crash.
Washington Post / AP
photo: Rescuers line up the bodies of victims of a bus crash on July 28, 2013 on the road between Monteforte Irpino and Baiano, southern Italy. (STRINGER/AFP/Getty Images)