African Union delegation arrives in Egypt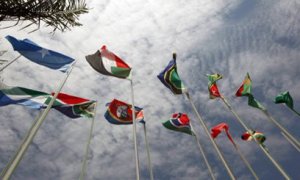 A delegation from the African Union (AU) arrived in Cairo on Sunday to meet with the Egyptian leadership following the country's suspension from all union activities.
The AU announced their decision to suspend Egypt on 5 July, citing the ouster of former president Mohamed Morsi as an "unconstitutional change of government."
The visit is a "fact-finding trip," according to a diplomatic source in the foreign ministry, who confirmed that the delegation had already met with Foreign Minister Nabil Fahmy and was due to meet with interim president Adly Mansour and Defence Minister General Abdul Fatah Al-Sisi.
The delegation is chaired by Alpha Omar Konaré, a former president of Mali who also chaired the African Union Commission from 2003 to 2008, and includes the Prime Minister of Djibouti and a special representative from the office of the Botswanan President.
"The meeting went well," the diplomatic source said, adding that Fahmy had conveyed his objection to the decision taken by the AU's Peace and Security Council to freeze Egypt's membership. Fahmy's predecessor, Mohammed Kamel Amr, had requested a delegation be sent prior to Morsi's ouster to observe the political situation, but no such visit occurred.
Fahmy explained in length the current situation and detailed the transitional plans, the source continued, adding that the Foreign Minister had reaffirmed the interim government's commitment to the nine-month roadmap as well as to an inclusive political process, which would include the Muslim Brotherhood.
State-run Al-Ahram reported Fahmy said in a press conference: "Egypt welcomes the AU delegation with open arms" and that the AU group was "a delegation between families."
Konaré was "very grateful" to the Foreign Minister, the diplomatic source added, and spoke positively about the situation, saying: "there is no Africa without Egypt." Mr Konaré also stressed the importance of moving forward, adding that there had been no preconditions set for Egypt's return to full-status in the AU.
The commission is due to present a report of their findings to AU chair Nkosazana Dlamini-Zuma in the coming weeks.
Daily News Egypt