UN Chief: Over 100,000 People Killed in Syria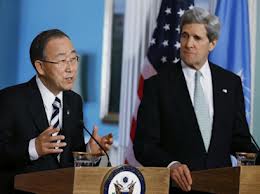 Secretary-General Ban Ki-moon on Thursday raised the death toll in Syria's civil war to more than 100,000, up from nearly 93,000 just over a month ago.
Ban called on the Syrian government and opposition to halt the violence in the 2 ½ year civil war, saying it is "imperative to have a peace conference in Geneva as soon as possible."
The secretary-general spoke before talks with U.S. Secretary of State John Kerry, who stood nearby.
"There is no military solution to Syria," Kerry then told reporters. "There is only a political solution, and that will require leadership in order to bring people to the table."
The United States and Russia are trying to convene an international conference in Geneva, along with the United Nations, to try to agree on a transitional government based on a plan adopted in that city a year ago.
Kerry said he talked to Russian Foreign Minister Sergey Lavrov on Wednesday and that both countries remained committed to bringing the warring parties together to further peace efforts.
"We will try our hardest to make that happen as soon as is possible," Kerry said.