At Least 56 Die in Train Derailment in Spain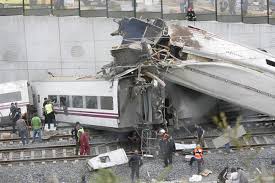 At least 56 people were killed and around 70 hurt late Wednesday after a train derailed near Santiago de Compostela in northwestern Spain.
The accident appeared to be caused by excessive speed as the train approached the station at Santiago de Compostela, the capital of the region of Galicia, state television reported. The express train, of a type that runs on high-speed tracks but slightly slower than the highest-speed models, had departed from Madrid earlier in the day. The train was headed to El Ferrol, about 60 miles north of Santiago de Compostela.
Reports on the number of casualties varied and couldn't immediately be confirmed. This is the first accident ever on a Spanish high-speed train track. Spain has one of the largest high-speed networks in the world, covering most large cities.
"Everything right now points to an accident," a spokesman for Spain's interior ministry said, adding there was so far no evidence of terrorism. Spanish Prime Minister Mariano Rajoy was due to visit the site of the derailment Thursday morning, the Spanish government spokeswoman said.
The head of the Galicia region, Alberto Núñez Feijóo, said at least 56 people died and of the 70 hurt, 20 were seriously injured, Reuters reported, citing an interview on Spanish radio.
"The scene is shocking, it's Dante-esque," he said in the interview.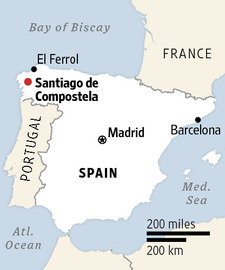 The train carried 218 passengers plus crew members, according Renfe, Spain's state-owned train company. Images broadcast on state TV showed a string of burned and mangled train cars still smoking at a bend in the track. Several bodies covered by blankets were also shown.
The train crashed about 2 miles away from Santiago de Compostela at around 8:42 p.m. local time, when between 10 and 13 cars overturned, state TV reported.
Officials with the Adif rail-infrastructure authority couldn't be reached immediately for comment.