Lebanon reaction to listing Hezbollah as a terrorist group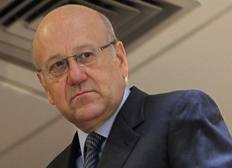 Lebanese officials were disappointed over the European Union's decision to list the military wing of Hezbollah as a terrorist organization, according to local reports
"There should have been more discussions before taking such a step in order for it not to reflect negatively and leave repercussions on Lebanon," said Foreign Minister Adnan Mansour, who is closely allied with the Lebanese militant movement.
Caretaker Prime Minister Najib Mikati said Lebanon regrets the European Union's decision to blacklist Hezbollah's armed wing, but said Beirut will maintain its relations with EU members.
"We will follow up on the issue through diplomatic channels, while we wish the EU countries had carried out a careful reading of the facts and sought out more information," MiKati said.
"Lebanese society, in all its components, is keen to abide by international law and to maintain excellent relations with EU member states," Mikati said in a statement.
Hezbollah's chief Sayyed Hassan Nasrallah will comment on EU blacklisting of his party in televised speech on Wednesday, NOW reported on Monday