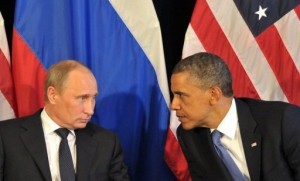 US President Barack Obama may cancel a scheduled trip to Moscow to meet with President Vladimir V. Putin in September as the standoff over the fate of Edward J. Snowden, the former National Security Agency contractor seeking asylum there, takes its toll on already strained relations between the United States and Russia, officials said Thursday.
Canceling the meeting in Moscow would be seen as a direct slap at Mr. Putin, who is known to value such high-level visits as a validation of Russian prestige. While the White House may be using the meeting as leverage to win cooperation as it seeks the return to the United States of Mr. Snowden, who is now staying at a Moscow airport, the reconsideration also reflects a broader concern that the two countries are far apart on issues like Syria, Iran, arms control and missile defense.
The conviction on Thursday of Aleksei A. Navalny, a prominent leader of the opposition to Mr. Putin, on embezzlement charges further underscored the deepening divide between the two countries as the White House pronounced itself "deeply disappointed" at what it called a trend of "suppressing dissent and civil society in Russia." The verdict and five-year sentence came a week after the posthumous conviction of Sergei L. Magnitsky, a lawyer investigating official corruption who was arrested and died in custody.
"We call on the Russian government to cease its campaign of pressure against individuals and groups seeking to expose corruption, and to ensure that the universal human rights and fundamental freedoms of all of its citizens, including the freedoms of speech and assembly, are protected and respected," said Jay Carney, the White House press secretary.
The talk of human rights rang hollow to the Kremlin given the Snowden case. Mr. Putin has suggested that Washington is being hypocritical in complaining about Russian actions while seeking to prosecute a whistle-blower who exposed American surveillance programs. But Mr. Putin has also made clear that he does not want the showdown to harm ties.
"Bilateral relations, in my opinion, are far more important than squabbles about the activities of the secret services," he told Russian reporters who asked Wednesday about the scheduled Moscow meeting.
The White House announced the coming meeting between Mr. Obama and Mr. Putin when the two leaders met in Northern Ireland last month. It was added as an extra stop on a trip to St. Petersburg for the annual gathering of the Group of 20 nations. But while Mr. Obama is still committed to going to St. Petersburg, officials said he is now rethinking the Moscow stop, not just because of the impasse over Mr. Snowden but because of a growing sense that the two sides cannot agree on other issues enough to justify the meeting.
The White House has not publicly confirmed the prospect of canceling the Moscow meeting, but it has sent unmistakable signals that the possibility is now on the table. Asked directly on Wednesday if Mr. Obama was still going to Moscow before the G-20 meeting in St. Petersburg, Mr. Carney declined to say. "I can say that the president intends to travel to Russia for the G-20 summit," Mr. Carney said. "I don't have anything to add to what we've said in the past about that trip."
But some critics have urged Mr. Obama to go further.
Senator Lindsey Graham, Republican of South Carolina, said that the president should push to move the G-20 meeting out of Russia altogether and that the United States should boycott the Winter Olympic Games set for 2014 in Sochi, Russia.
"President Obama, should you go to St. Petersburg, Russia, for the G-20 summit if they give Snowden asylum and they don't change their policy toward Syria and continue to help Iran?" Mr. Graham said Wednesday on "The Lead With Jake Tapper" on CNN. "Should you go? My advice to you is, I wouldn't go to St. Petersburg. I would ask for a change of venue."
"President Obama, should you go to St. Petersburg, Russia, for the G-20 summit if they give Snowden asylum and they don't change their policy toward Syria and continue to help Iran?" Senator Lindsey Graham said Wednesday on "The Lead With Jake Tapper" on CNN. "Should you go? My advice to you is, I wouldn't go to St. Petersburg. I would ask for a change of venue."
The Snowden episode has likewise harmed American relations with China after Mr. Snowden initially fled to Hong Kong and was then allowed on a plane to Moscow despite an American request for his arrest. The American consul general in Hong Kong on Thursday said the case had sowed distrust and called into question the city's supposed legal autonomy.
"It will take some time to repair the damage there," Stephen M. Young, the consul general, who will leave his post by the end of the month, said in departing remarks. "We were frankly disappointed by the way our colleagues here in Hong Kong" handled the situation.
Mr. Obama announced in a speech last month in Berlin that he wanted to negotiate another round of arms cuts with Russia, cutting each side's stock of deployed strategic warheads by another third beyond the New Start treaty signed in his first term. The administration hoped to advance that initiative at the meeting in Moscow by framing future discussions over reductions.
But Mr. Putin has publicly linked further reductions to a range of other strategic issues, including American plans to build a missile defense system in Europe, and has insisted on bringing in other nuclear powers. Privately, American officials said they have received no real response to Mr. Obama's overture, or any other indication of any policy breakthrough to justify the Moscow meeting.
Ashton B. Carter, the deputy defense secretary, said that the reductions made no sense unless Russia agreed to commensurate cuts. "The goal is to get Russian reductions," he said in an interview at the Aspen Security Forum. He said that by doing so, the administration hoped to make a case for eliminating North Korea's small arsenal and dissuading Iran from building a weapon.
Some Republicans in Washington expressed concern on Wednesday at reports that Russia was violating its obligations under the Intermediate-Range Nuclear Forces Treaty of 1987. Last month, Mr. Putin publicly questioned the utility of that treaty.
Although a new unclassified State Department report mentioned no such violations, Senator Kelly Ayotte, Republican of New Hampshire, asked senior military leaders at a hearing if a newspaper report on treaty violations was true. Adm. James A. Winnefeld Jr., the vice chairman of the Joint Chiefs of Staff, said he could not answer in an unclassified briefing.
Such violations would make it unwise to pursue further nuclear arms cuts with Russia, Ms. Ayotte said. "Given the behavior of Russia, I think it is at best naïve to think that we're going to be able to negotiate any kind of further reductions, which I would oppose," she said. "I don't think that is the right direction for the protection of this country."
Angela E. Stent, a former national intelligence officer on Russia now at Georgetown University, said Obama administration officials were questioning the Moscow meeting because they were "not clear what will actually be signed," even if Mr. Snowden's case was resolved by then. "There seem to be significant gaps between the Russian and U.S. sides on these important issues such as Syria, missile defense and arms control," she said.
Dr. Stent, author of a coming book on Mr. Putin and Russian-American relations, said she could not recall another time since the cold war that an American president had called off a meeting that was already scheduled. "If they do cancel that part of the summit, that's unprecedented since the collapse of the Soviet Union from the American side," she said. "And it raises the question for the Obama administration — Russia's not going to be a high priority for the rest of the term."
NY Times