The Syrian official's wife was behind his murder, report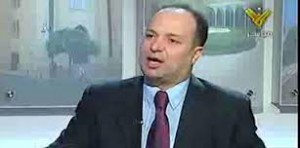 Wife of the Syrian political commentator Mohammad Darrar Jammu incited her brother Badih Younes and Jammo's nephew Ali to kill her husband , LBC reported Thursday evening .
The Lebanese Armed Forces command said earlier on Thursday that the preliminary investigations showed that there were no political motives behind the killing of Jammu (or Jamo).
The LAF also said that it has identified the perpetrators and arrested them and seized the weapon used to kill Jammu.
The army command added that the investigations are ongoing to reveal the crime's circumstances.
Jammu is considered a staunch ally of the Syrian regime of president Bashar al Assad and serves as head of the department of political and international relations at the International Association of expatriates. He often appeared on Hezbollah's Almanar TV to defend Assad.
Syrian state television was the first to report on Wednesday morning Jammu's assassination in front of his house in Sarafand, south Lebanon.
According to the Syrian report unknown assailants fired at Jammu and his bodyguards who were also wounded in the attack.
Lebanese security sources initially said that supporters of the Syrian rebel opposition were top suspects in the killing .
A funeral was held for jammu on Thursday which was attended by his wife's family ( Younes) , Hezbollah , Amal and Baath party representatives in addition to a delegation from the Syrian embassy that came to collect the body of the deceased. His coffin was then taken by a Red Cross ambulance that headed to Latakia where he will be buried on Friday