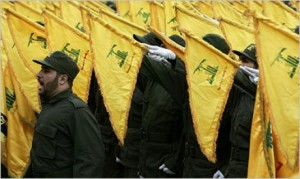 Lebanon President Michel Suleiman tasked caretaker Foreign Minister Adnan Mansour to Ask the European Union not to name the Shiite militant Hezbollah group a terrorist organization.
"After deliberating with caretaker Prime Minister [Najib Mikati] it was decided to task [Mansour] to ask Lebanon's Representative at the European Union, to notify the EU General Commission of the Lebanese government's request not to include Hezbollah on the blacklist," the presidency media office announced on Thursday.
The presidency described Hezbollah as "one of the main components of the Lebanese society."
On Wednesday, Al-Arabiya reported that the EU is leaning towards "unanimously" approving putting the military wing of the Lebanese Shiite party on the international terrorist list , a move it has long avoided despite U.S pressure.
Hezbollah has been on the United States terror blacklist since 1995, after a series of anti-American attacks including the bombing of the US embassy and Marine barracks in Beirut in the 1980s.
The move was bolstered by Germany's policy change after long resisting calls to list Hezbollah for fear it could destabilize Lebanon.
Germany said it was pushed toward declaring Hezbollah a terror group by the 2012 attack in the Black Sea resort of Burgas in Bulgaria.
On Wednesday, Bulgaria's interior minister said new evidence has bolstered its case implicating Hezbollah in the bus bombing that killed five Israeli tourists, the bus driver and alleged attacker.
NOW