Lebanese towns slap curfews on foreigners (Syrians)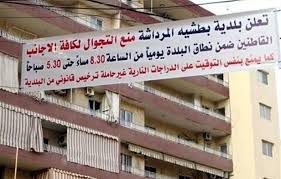 BETCHAY, Lebanon – Syrian refugees are upending the quiet life that baker Joseph Mallouf has worked hard to build for himself and his family.
"I have a daughter, she has a small dog, she walks it every night," the 42-year-old said. "Now she cannot."
Mallouf says young Syrian men had started to habitually gather at night on the streets of this town – a place where everybody used to know each other, and many residents are related. The newcomers drank, fought and harassed young women like his daughter.
Thefts increased as a result of the fleeing refugees, he said. So, in April of this year, the municipality of Betchay al Merdacheh required that all "foreigners" be off the streets by 8:30 p.m. Everyone in town says that really means "Syrians."
This area is not alone. Across a country deeply divided along religious and political lines, many Lebanese are able to agree on one thing: Syrians fleeing their country's vicious civil war are a huge and growing problem that needs to be dealt with more aggressively.
And for many, the first step is to keep Syrians off the streets after dark.
Meanwhile, the flow of refugees looks set to grow.
The United Nations says that the civil war has prompted the worst refugee crisis since the Rwandan genocide 20 years ago. Nearly 1.8 million have fled the fighting between loyalists of President Bashar Assad and the mainly Sunni rebels — two-thirds since the beginning of 2013, the UN's High Commissioner for Refugees Antonio Guterres said on Tuesday.
On Wednesday, the Lebanese government estimated that 1.2 million Syrians have streamed into this tiny country, which has a population of just over 4.2 million.
The Lebanese have mostly been hospitable and generous to the refugees. But patience is wearing thin.
Mallouf said he's all for the large banner at the town's entrance announcing the curfew.
"Many bad things have happened. You can't leave anything outside at night — there are a lot of thieves," he said. "So the curfew is not perfect, not 100 percent, but it's helping."
The nearby town of Ramhallah instituted a curfew after the number of Syrians mushroomed from 35 to more than 500 in a few months.
"They came with no clothes, not even underwear," said Farid Nassar, Ramhallah city council's treasurer. "If you leave underwear outside at night, or a shirt outside, it disappears."
The curfew, which lasts from 9 p.m. to 6 a.m., works like this: Syrians are given a warning or two if they're caught violating the regulation. On the third or fourth violation, the violator is detained for a few hours.
The rebel army in Syria is soon to be armed by Washington, which is supplying the rebels with $2.5 million each month. As they train for battle, the rebels wear American-supplied uniforms, eat U.S. military rations and use American radios. NBC's Richard Engel reports.
Nassar denied reports that vigilantes are beating up Syrians breaking the curfew.
"We do not use force," he said. "[If] any other people [are trying to enforce the curfew], like kids, or a gang, we are against it."
But Nasser was quick to add that if a few Syrians "fall on their faces, then it's not a big deal….These are little problems." He diminished their concerns and compared them to Syria's 30-year occupation of Lebanon, when the Syrians "beat the crap out of us and kidnapped us."
The mayor of Ramhallah, Michele Saad, balked at the assertion that Syrians have been mistreated in his town.
"We are treating them as sons of our village, and even better than that, we give them shelter, where they can stay without paying rent," he said, in addition to providing work, food, free electricity and water to the refugees.
Sami Jakour, who owns a car repair shop near Mallouf's bakery in Betchay al-Merdacheh, agrees that there is no discrimination. "It's about safety," the 45-year-old said. "These people are going around and we want to be safe."
One of Jakour's two Syrian employees is a shy 18-year-old from Hama, site of some of the Syrian uprising's most intense fighting.
The teen, who declined to give his name for fear it would endanger him and his family, left his homeland nine months ago. He said he's heard about "hooligans" harassing and roughing up Syrians in nearby towns, but not here. He said he's comfortable with the curfew, and that he's in Lebanon to make money and stay out of the fighting in Syria.
"I go from work to home, that's all I do," he said quietly.
NBC
Photo: The municipality of Betchay al Merdacheh displayed this banner  which reads: "All "foreigners"  should be be off the streets from  8:30 p.m. till 5: 30 am. Everyone in town says that  foreigners  means "Syrians." The poster also reads 'during this period   motorbikes that are not licensed by the municipality are not allowed on the streets. "