Arab League backs Kerry's Palestinian peace bid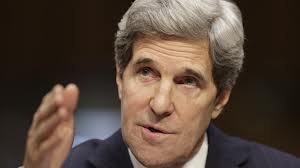 The Arab League endorsed a U.S. drive to relaunch Palestinian-Israeli peace negotiations on Wednesday, saying in a statement carried on the Jordanian news agency that it hoped this could lead to a two-state solution.
The statement reported by the Petra news agency came after an Arab League delegation met U.S. Secretary of State John Kerry in the Jordanian capital Amman. It repeated a 2002 League offer of a comprehensive Arab peace with Israel but also contained a newer readiness to adjust the pre-1967 borders by swapping land.
Quoting the statement, Petra said the Arab League delegation in Amman affirmed "its support for Kerry's great efforts to revive peace talks between the Palestinian and Israeli sides and pointed out that the ideas put forward by Kerry before the committee provide the ground and a suitable environment to start negotiations, especially in new and important political, economic and security issues".
The League delegation "expressed hope that this will lead to a launch of serious negotiations to address all final status issues to end the conflict and achieve a just and comprehensive peace between the Palestinians and Israelis which will bless the region with security, stability and prosperity".
The delegation emphasized "its commitment to the Arab peace initiative, stressing that any future agreement must be based on a two-state solution through the establishment of an independent Palestinian state on the lines of the fourth of June 1967 with a limited exchange of territory of the same value and size".
The League officials expressed "appreciation to President Barack Obama and Secretary of State John Kerry for their efforts and their commitment to achieve peace" and also "their commitment to achieving a just and comprehensive peace in the Middle East in cooperation with the United States and with all relevant parties".
Reuters