Iran's Rouhani blasts Ahmadinejad over economy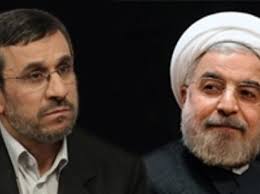 TEHRAN, Iran — Iran's president-elect leveled his broadest criticism of the outgoing administration of Mahmoud Ahmadinejad since June's election, saying Monday that some key economic metrics are worse than previously reported.
The claims by Hasan Rouhani reflect his campaign promises to focus on restoring some economic stability in Iran, which is battered by Western sanctions over Tehran's nuclear program. It also suggests that Rouhani's moderate-minded government could hold Ahmadinejad directly accountable for alleged economic mismanagement.
This could open more room for Ahmadinejad's political opponents to seek to tarnish his image and disrupt possible future aspirations. Ahmadinejad has not announced his plans after he officially leaves office early next month, but it's widely expected that he will attempt to keep a high political profile and a voice in Iranian affairs.
Several newspapers quoted Rouhani as saying his team of experts concluded that only an average of 14,000 jobs were created annually from 2006-2012. Ahmadinejad, who took office in 2005, claims his government created hundreds of thousands of jobs.
Inflation, Rouhani said, actually stands at 42 percent and not the previously reported 32 percent. On Sunday, the central bank put the rate at nearly 36 percent.
"We asked current officials about the situation of the country but their reports and those of our teams were very far from each other," he said in remarks published by the pro-reform Shargh daily.
Rouhani's supporters hope the former nuclear negotiator can follow through with his promises to build better ties with the West and roll back some of the clampdowns on political and social freedoms by Iranian hard-liners.
But all key policy decisions rest with the ruling clerics. The most immediate impact by Rouhani could be on economic affairs, which are part of the portfolio of the presidency.
In a meeting with members of parliament late Sunday, Rouhani urged close cooperation between his office and parliament in order to overcome the country's serious difficulties.
Huffington post